YEKATERINBURG, Russia -- Chinese President Hu Jintao met here Monday night with Indian Prime Minister Manmohan Singh.
Hu said China has always striven, steadfastly and from a strategic and long-term perspective, to promote good neighborliness and friendly cooperation with India, an important neighbor of China and also a fast-growing emerging power.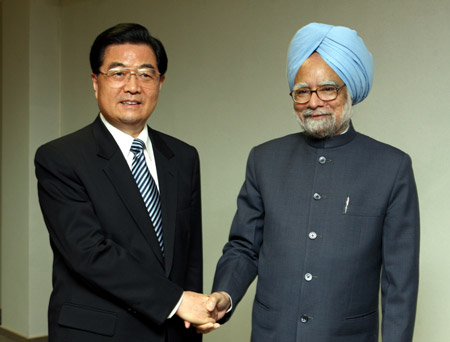 Chinese President Hu Jintao (L) meets with Indian Prime Minister Manmohan Singh in Yekaterinburg, Russia, on June 15, 2009. [Xinhua]
The Chinese side is ready to work with the Indian side to maintain the sound momentum for development of the bilateral strategic and cooperative partnership, make greater efforts to implement the "10 strategies" reached between the leaders of the two countries, enhance mutual political trust and reciprocal cooperation in various fields, take into consideration each other's concerns and core interests, and strengthen coordination and cooperation on major international and regional issues, said Hu.
He noted that the two sides should focus on the following key areas in efforts to promote bilateral ties.
The first is to strengthen high-level contacts.
Special Coverage

 SCO&BRIC Summits
Related readings:


 Hu arrives in Russia for SCO summit, BRIC meeting


 Hu meets Kyrgyz counterpart


 President Hu meets president of Kyrgyzstan


 President Hu meets president of Tajikistan


 President Hu meets Pakistani leader
The Chinese side welcomes Indian President Pratibha Patil to visit China in the latter half of this year, and Chinese leaders are considering visiting India at a time convenient to both sides.
The Chinese side agreed in principle to establish a hot line between the Chinese premier and the Indian prime minister.
The second is to deepen bilateral economic and trade cooperation of mutual benefit. The two sides should continue to tap potentials, encourage two-way investments, expand cooperation in contracted projects, and strive to realize the target of US$60 billion in bilateral trade in the year 2010.
The third is to work together to respond to the impact of the international financial crisis. The Chinese side will strengthen communication and coordination with the Indian side, maintain close cooperation within the frameworks of BRIC, the five developing nations and the Group of 20, safeguard the common interests of the developing countries, and strive to contribute to economic recovery and development of Asia and the world at large.