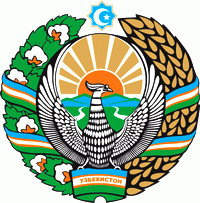 Uzbekistan (the Republic of Uzbekistan, RUz) is a country in Central Asia, with a population of more than 26.5 million and more than 100 nationalities, including Uzbeks, Russian, Tajiks, Kazakhs, Tatars and Karakalpaks. The capital is Tashkent. The monetary unit is Sum. Its official language is Uzbek while Russian is a language for inter-ethnic dialogue.
The head of state is the President of the Republic of Uzbekistan (currently I. A. Karimov), elected every 7 years. The national legislature, the parliament of the Republic of Uzbekistan, exercises legislative power, which consists of two chambers - the Oliy Majlis(the lower house) and the Senate (the upper house). 
With an area of 447,400 sq km, Uzbekistan shares borders with Kazakhstan, Turkmenistan, Tajikistan, Kyrgyzstan and Afghanistan. It has a coastline of the Aral Sea in the northwest.   
The Republic of Uzbekistan consists of the Karakalpak Autonomous Republic and twelve other provinces. 
Uzbekistan is rich in mineral resources, with approximately 100 types of mineral resources in its territory. The Republic is the world's eighth largest producer of gold. It is also one of the largest gas producers in the world. Other notable mineral resources include coal, uranium ore, nonferrous and rare-earth metals (silver, copper, lead, zinc, tungsten and molybdenum).
Uzbekistan is mainly an agricultural country, with cotton processing as the mainstay. The country's industry include metallurgy, motor industry, chemical industry, food-processing industry and manufacturing of construction materials.  
The Republic of Uzbekistan declared its independence on September 1, 1991.