YEKATERINBURG, Russia - Leaders of the Shanghai Cooperation Organization (SCO) on Monday held a Smaller Meeting in the Russian city of Yekaterinburg.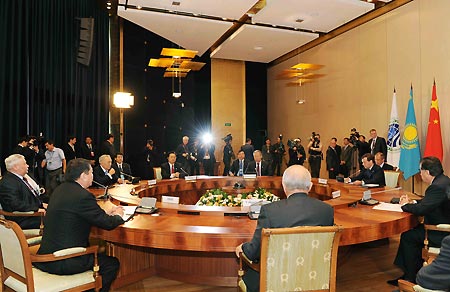 Leaders of the Shanghai Cooperation Organization (SCO) coming for an annual SCO summit hold a smaller meeting in the Hyatt Regency Yekaterinburg Hotel, in Yekaterinburg, Russia, on June 15, 2009. [Xinhua] 

Present at the meeting were the leaders of the six SCO member nations - China, Russia, Kazakhstan, Kyrgyzstan, Tajikistan and Uzbekistan.
It was not immediately known what the leaders had discussed at their meeting, but such issues as regional security, economic cooperation and the global financial crisis were the possible topics.
On Tuesday, the leaders will hold a Smaller Meeting with the heads of state or government of the four SCO observer nations, which is to be followed by an extended meeting.
Iran, Mongolia, Indian and Pakistan have observer status at the SCO. Joint documents will be signed after Tuesday's meetings, and there will be a press conference given by the leaders of the SCO, which was founded in 2001 in Shanghai.
LEADERS OF PAKISTAN, INDIA TO MEET
Special Coverage


 SCO&BRIC Summits
Related readings:


 Hu arrives in Russia for SCO summit, BRIC meeting


 Tajik FM says security, economy two pillars of SCO


 SCO sails into new era of cooperation


 Economy, security top SCO agenda


 SCO comes of age for regional development
Pakistani and Indian leaders will meet in Yekaterinburg Tuesday on the sidelines of the SCO summit, an official with the Pakistani delegation said.
"Yes, it has been confirmed," Fasih Ullah Khan, the information officer of the Pakistani delegation, told Xinhua.
Khan said the two leaders, Pakistani President Asif Ali Zardari and Indian Prime Minister Manmohan Singh, would meet in an "informal manner," like shaking hands and saying hello to each other.
This will be the first meeting between the leaders of the two countries after the devastating Mumbai attacks last November.
IRANIAN PRESIDENT POSTPONES VISIT
In another development, Iranian President Mahmoud Ahmadinejad postponed a scheduled visit to Russia Monday, but will attend the SCO summit meeting Tuesday, a diplomat with the Iranian embassy in Moscow confirmed.
Ahmadinejad would not arrive on Monday as previously scheduled, but would fly in on Tuesday to attend the SCO summit, the diplomat told Xinhua by telephone.
The president would attend the summit only, said the diplomat, who declined to be identified.
Earlier Monday, the Itar-Tass news agency said the Iranian president, who had won Friday's presidential election, had cancelled his visit to Russia due to the tense political situation in his country following the election.
About 42,000 police officers have been deployed in Yekaterinburg as part of tight security measures, said Valentin Kuzmin, chief of Social Security Police in the Ural region of Sverdlovsk. Yekaterinburg is the administrative center of Sverdlovsk.