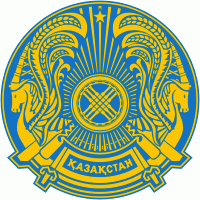 KAZAKHSTAN (REPUBLIC OF KAZAKHSTAN) is a Central Asian country in the heartland of the Eurasian continent.
With an area of 2,724,900 sq. km, Kazakhstan is the ninth largest country in the world. It shares borders with China, Kyrgyzstan, Turkmenistan, Uzbekistan and Russia. Its population is 15,074,200.
Islam is the largest religion in the country, followed by Russian Orthodox Church, Roman Catholic and Protestant Churches. 
The country has 14 provinces and 84 municipalities.
The capital is Astana (as of December 10, 1997). The population of Astana is 528,000. The state language is Kazakh, meanwhile Russian is also officially used pari passu with Kazakh in state organizations and municipal self-governance bodies.
Starting from 1991 Kazakhstan is a unitary presidential republic. The current Constitution was adopted on August 30, 1995, amendments were made in 1998.
The head of state is the president (currently Nazarbaev Noursultan Abishevich).  The President is also the Supreme Commander in Chief of the Republic of Kazakhstan Armed Forces.
The legislative body is made up of the Senate and the Majilis.
Its main political parties include the Republican party "Otan" ("Fatherland"), the Civil party, the Agrarian party, "Ak Zhol" ("Light Way"), and the Communist Party.
The Republic of Kazakhstan declared independence in October 1990.