YEKATERINBURG - The world's biggest emerging market powers will seek to craft a united front on repairing the global financial system when they meet for the first formal BRIC summit on Tuesday.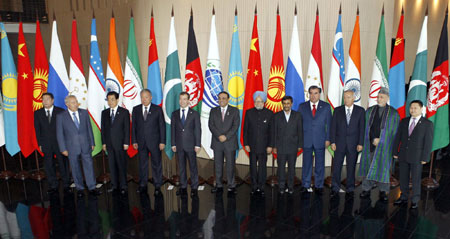 Leaders at the Shanghai Cooperation Organisation (SCO) pose for a family photo in Yekaterinburg, June 16, 2009. (L-R) General Secretary of the SCO Bolat Nurgaliyev, Kazakhstan's President Nursultan Nazarbayev, Chinese President Hu Jintao, Kyrgyzstan's President Kurmanbek Bakiyev, Russian President Dmitry Medvedev, Pakistani President Asif Ali Zardari, Indian President Manmohan Singh, Iranian President Mahmoud Ahmadinejad, Tajikistan's President Imomali Rakhmon, Uzbek President Islam Karimov, Afghan President Hamid Karzai, and Mongolia's First Deputy Prime Minister Altanhuyag Norov. [Agencies]
Before the leaders of Brazil, Russia, India and China meet, a summit of the Shanghai Cooperation Organisation (SCO) of Central Asian powers will also underline the growing international stature of China and Russia.
Special coverage:


 SCO & BRIC Summits
Related readings:


 Russia may put reserves in BRIC bonds


 BRIC summit may focus on reducing dollar dependence


 Economy, security top SCO agenda


 SCO sails into new era of cooperation


 Building mutual trust, brick by BRIC
The four BRIC nations -- which account for 15 percent of the $60.7 trillion global economy -- will focus on ways to reshape the financial system after the economic crisis.
"These four countries are all quite influential in international economic development, and I think if in the meeting they raise some proposals and initiatives, that would be fair and reasonable," said Wu Hailong, a senior Chinese Foreign Ministry official.
"Especially, some countries have proposed establishing a super-sovereign currency, and I think their impetus is ensuring the security of each country's foreign currency reserves."
Chinese and Russian officials have in recent days played down talk of a discussion on a new supranational reserve currency to reduce dependency on the U.S. dollar.
The BRIC term was coined by Goldman Sachs economist Jim O'Neill in 2001 to describe the growing power of emerging market economies. Tuesday's summit in the Russian Urals city of Yekaterinburg marks a step towards cohesion as a group.