NOVO-OGARYOVO, Russia -- Chinese President Hu Jintao met Russian Prime Minister Vladimir Putin in Moscow on Wednesday amid a push by the two countries to increase their influence around the world.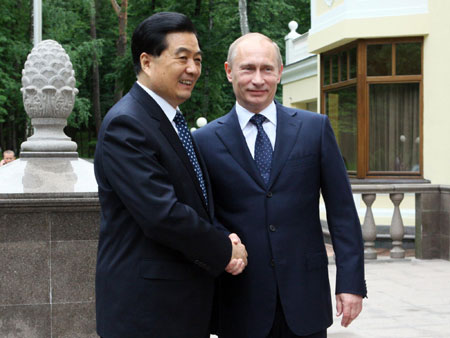 Russian Prime Minister Vladimir Putin (R) and Chinese President Hu Jintao meet in the presidential residence Novo-Ogaryovo outside Moscow June 17, 2009.[Agencies]
Hu came to Russia for a state visit which also included two summits of developing world countries covering global trade, security and greater representation for emerging market powers on the world stage.
Related readings:


 President Hu arrives in Moscow for state visit


 Hu: Co-op needed to address financial crisis


 Hu makes proposal to tackle economic crisis at BRIC summit


 Russia, China urge diverse monetary system


 China, Russia to boost power trade
Russia's Economic Development Ministry released figures showing that in the first quarter of 2009, China had become Russia's biggest trading partner, overtaking Germany and the Netherlands, Interfax reported.
At talks in Putin's residence on the outskirts of Moscow, Hu said: "We have enacted effective strategic cooperation, which allows us ... to assert our joint forces and provide the necessary contribution to achieving peace and stability in the world," according to a Russian translation of his comments.
He invited Putin to visit Beijing in October. The two leaders know each other well, having met several times when Putin was president of Russia from 2000-2008.
Hu also laid a wreath at the tomb of Russia's unknown soldier at the foot of the Kremlin walls. Hu was due to meet Russian President Dmitry Medvedev later.