YEKATERINBURG, Russia - Chinese President Hu Jintao called for closer cooperation among BRIC countries to deal with the ongoing global financial crisis when he addressed the first BRIC summit here Tuesday.
"We should seize the historic opportunity, strengthen unity and cooperation, and jointly safeguard the overall interests of developing countries, " Hu said, offering the following proposal for furthering cooperation among the BRIC countries, which groups Brazil, Russia, India and China.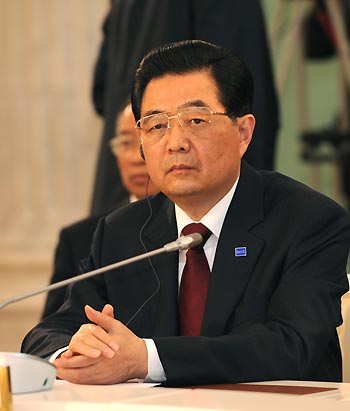 Chinese President Hu Jintao attends the first summit meeting of BRIC (Brazil, Russia, India and China) leaders in Yekaterinburg, Russia, on June 16, 2009. [Xinhua] 
Firstly, to strengthen political mutual trust. He said the four are emerging countries with an impact on global affairs, and are the important forces to keep regional and international peace and stability.
"We should make full use of current mechanisms and deepen political mutual trust through dialogue and communication, and serve as an example of mutual respect and equal coordination in the international community," Hu said.
Secondly, to deepen economic cooperation. He noted that the four countries have advantages in resources, markets, labor force and technology, and are highly complementary to each other.
Hu called on the four countries to intensify economic cooperation, enrich its contents, broaden it to wider fields, create new mode for cooperation to achieve better results.
Besides economic and trade cooperation, the four countries can also form partnership in science and technology when dealing with climate change, carry out joint research in high-tech fields such as new energy, and jointly create new economic growth engines, said Hu.
Thirdly, to promote cultural cooperation. All the four countries have a centuries-old history and civilization and rich cultural heritages. There is a long standing friendship among the four peoples, said Hu.
He urged the four countries to enhance exchange and cooperation in culture, education, health, tourism, sports and other fields, promote mutual understanding among the four peoples, encourage people of all sectors to become good friends and partners, thus laying a solid social groundwork for all-round cooperation.
Fourthly, to encourage learning and drawing on useful experiences from each other. Hu said that each of the four countries has a specific way of development, which is the common wealth of the human society.
"We should respect each other's way of development of their own choice, exchange experience on development, draw on each other's way of development, and share their experience with other developing countries on a voluntary basis," said Hu.
In addition, Hu called on the four nations to enhance dialogue, exchange and cooperation with each other on the principles of openness and transparency.