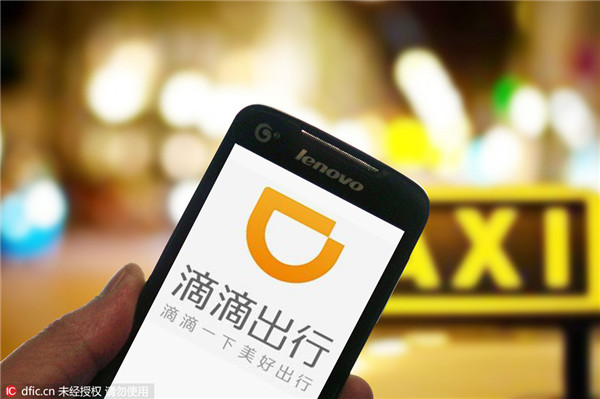 A Chinese mobile phone user uses the taxi-hailing and car-service app Didi Chuxing on his Apple iPhone smartphone in Jinan city, east China's Shandong province, Feb 22, 2015.[Photo/IC]
Didi Chuxing, China's largest one-stop mobile transportation platform, announced on Thursday that it closed a $7.3 billion financing round, becoming one of the world's best-funded companies with about $10.5 billion in disposable funds.
In a statement, Didi said it received $4.5 billion in equity fundraising from Apple, China Life, Ant Financial and other new shareholders, together with existing investors Tencent, Alibaba, China Merchants Bank, and SoftBank, among others.
In addition to the equity investment, China Merchants Bank has also committed to becoming the lead arranger for a syndicated loan facility to DiDi of an amount up to $2.5 billion. China Life also added a long-term debt investment of a billion yuan ($300 million). In total, the ride-hailing app gained $7.3 billion in financing, one of the world's largest private equity funding rounds.
It said proceeds from the round would be used for technology upgrading, big data research and operations, investments in improving rider and driver experience, as well as explorations into new business lines and opportunities.
DiDi now stands as one of the world's best-funded internet companies with approximately $10.5 billion in disposable funds.
The deep-pocket Didi will put Uber Technologies Inc under huge pressure as the two ride-hailing giants are locked in a cut-throat competition in China.
Liu Zhen, senior vice president of Uber China, said in an interview on Wednesday the company's China operation did not lack money.
According to Uber, it closed its latest round of financing at $6 billion. The US-based company is now valued at about $70 billion.