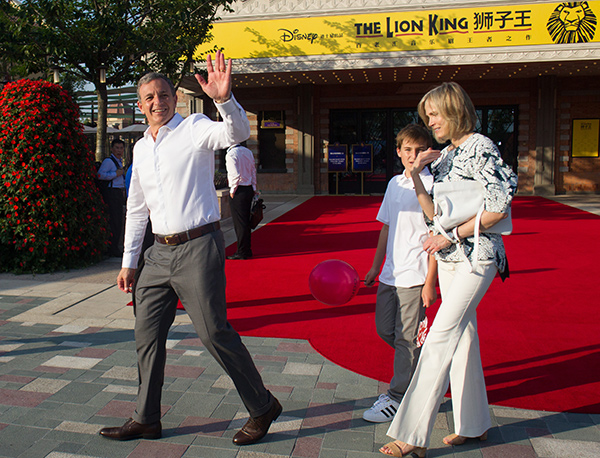 Bob Iger, chief executive of The Walt Disney Co, and his family walk the red carpet after the premiere of the Chinese version of The Lion King at Shanghai Disneyland. [Photo/Gao Erqiang]
China represents "incredible potential" for The Walt Disney Co and Thursday's opening of Shanghai Disneyland offers the entertainment giant a chance to boost its brand in the world's most-populous film market, Bob Iger, chief executive of Walt Disney, said on Wednesday.
Disney movies including The Lion King and Frozen are popular in China, but Shanghai Disneyland plans to create a stronger connection to Chinese consumers.
"China obviously represents incredible potential for Walt Disney," said Iger. "We've considered many ways to approach growth in China. Nothing is as impactful, nothing creates a connection to our stories, to our brands, to our characters, as a theme park experience."
Analysts expect Shanghai Disneyland to become the world's most-visited theme park, attracting up to 50 million guests a year, compared with 19.3 million for Disney's flagship Walt Disney World in Orlando, Florida, in 2014.
Despite a sharp slowdown in growth, China's economy still is one of the world's best performers, and tourism spending is rising.
Total visitor numbers to theme parks are forecast to more than double to 282 million in 2019 from 133 million in 2014, according to Euromonitor International, a research company.
The company behind Mickey Mouse is part of a rush of global brands in industries from autos to mobile phones that are rolling out products designed for increasingly prosperous Chinese consumers at a time of weak sales growth in other markets.
To appeal to Chinese visitors, Disney added a teahouse and other China-themed elements to its latest park.
In a garden leading to its iconic castle, Disney created the "Garden of the 12 Friends" using characters such as Remy from Ratatouille and Tigger from Winnie the Pooh to represent animals of the Chinese zodiac.