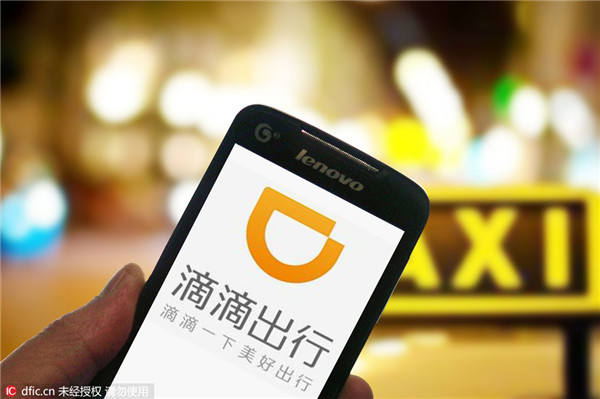 A Chinese mobile phone user uses the taxi-hailing and car-service app Didi Chuxing on his Apple iPhone smartphone in Jinan city, east China's Shandong province, 22 February 2015.[Photo/IC]
Didi Chuxing, China's largest mobile transportation solution provider, said on Monday that it has received about $600 million strategic investment from China Life Insurance.
The cash infusion, which includes an equity investment of $300 million and a long-term debt investment of 2 billion yuan ($305 million), is expected to bankroll Didi's competition with the United States-based Uber Technologies Inc.
With the investment, China's largest State-owned commercial insurance conglomerate becomes the latest in Didi's string of high-profile investors, including Tencent Holdings Ltd, Alibaba Group Holding Ltd, China Investment Corporation, China Merchants Bank, and Ping An Ventures.
The two parties are committed to building a comprehensive partnership on internet-powered financial innovation and other initiatives, according to Didi's statement on Monday.
With China Life's advantages in funding, branding, financial product systems and service network, Didi will offer its users a more flexible, reliable and abundant value-added travel service experience, said Liu Qing, president of Didi Chuxing, according to 36kr.com.
Wang Junhui, president of China Life Investment, said their cooperation would open up a new industrial development space for "Internet Plus Finance".
Didi and China Life will join hands in developing innovative business models for insurance, comprehensive financial services, market development and corporate mobility solutions to build a safer and more diversified mobile financial ecosystem. The two parties will also collaborate on investment opportunities in mobile transportation and related sectors in China and beyond.
DiDi works with close to 15 million car owners and drivers on its mobile transportation platform offering taxi-hailing services, private car hailing, hitchhiking, chauffeur services, buses and test drive services to about 300 million users in China. The company said it undertakes as many as 14 million rides per day.
The merger between Didi Dache and Kuaidi Dache was announced on February 14, 2015, after which the combined company announced it had raised $2 billion in funding from Ping An Ventures, Alibaba, Tencent Holdings Ltd, Temasek Holdings Private Ltd and Hillhouse Capital Group on July 8, 2015.
And the amount of the rounds of funding expanded to $3 billion with investment from China Investment Corp and Ping An Insurance (Group) Company of China Ltd, said Chen Wei, founder and CEO of Didi Chuxing on September 9, 2015.
Funding raised by Didi Chuxing
| | | |
| --- | --- | --- |
| Releasing Time | Amount | Major Investor |
| June 13, 2016 | $600 million ($300 million equity investment and 2 billion yuan long-term debt investment) | China Life Investment Holding Co Ltd subordinated to China Life Group |
| May 25, 2016 | $400 million | Alibaba Group Holding Ltd and Ant Financial Services |
| May 13, 2016 | $1 billion | Apple Inc |
| September 9, 2015 | $1 billion | China Investment Corp, Ping An Insurance (Group) Company of China Ltd |
| July 8, 2015 | $2 billion | Ping An Ventures, Alibaba Group Holding Ltd, Tencent Holdings Ltd, Temasek Holdings Private Ltd, Hillhouse Capital Group |