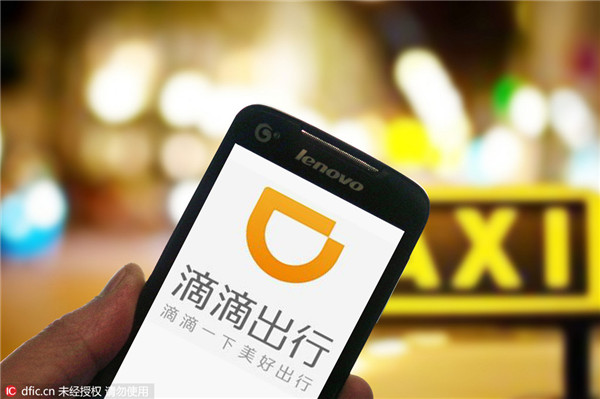 A Chinese mobile phone user uses the taxi-hailing and car-service app Didi Chuxing on his Apple iPhone smartphone in Jinan city, east China's Shandong province, 22 February 2015.[Photo/IC]
Listing could be biggest by a Chinese company since Alibaba's record 2014 offering
Apple Inc may not need to wait that long before it reaps the benefits of investing $1 billion in Chinese car-hailing service Didi Chuxing.
Didi is targeting an initial public offering in New York next year, according to industry sources.
The timing will depend on how its battle with Uber Technologies Inc in China plays out, they said. Such a move may put the Chinese app ahead of its US rival in going public, with Uber having said it wants to hold off as long as possible.
China's biggest ride-hailing app, Didi is in the process of raising about $3 billion of funding, including Apple's $1 billion contribution, which has swelled it's valuation to about $26 billion, sources have said.
Already backed by Alibaba Group Holding Ltd and Tencent Holdings Ltd, Didi has reached break even in about half of the 400 Chinese cities it operates in as Uber spends heavily to win both drivers and riders.
"It's great timing because the company is on a tear in terms of winning market share and users, and that may not last forever, " said Li Yujie, an analyst with RHB Research Institute Sdn in Hong Kong.
"Didi could be facing some pressure from investors who want to see their investment returns."
Formally known as Xiaoju Kuaizhi Inc, Didi declined to comment on any potential IPO in an e-mailed statement.
Apple Chief Executive Officer Tim Cook posted a picture on his Twitter account, showing him using Didi's taxi hailing service together with Didi President Jean Liu. The post drew hundreds of comments.
At Didi's current valuation, a US IPO could be the biggest by a Chinese company since Alibaba's record offering in 2014.
The company is among a list of ride-sharing apps including Uber and Lyft Inc that could conduct a public offering. Didi hasn't decided on which exchange and which banks to hire yet, said sources.
Didi was created last year when separate apps backed by Tencent and Alibaba merged after brutal competition drove up losses. The firm now has 14 million registered drivers in China.