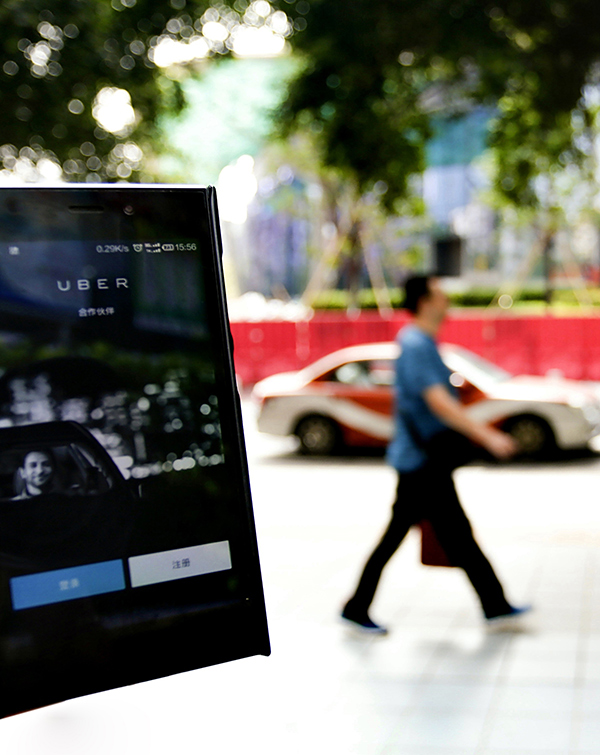 An Uber driver makes a pickup in Zhengjia Square in Guangzhou, Guangdong province. [Liu Jiao/For China Daily]
Convenience is said to be important by users, but most say cost is the most decisive factor
Hailing a ride may be more popular in China than in the United States, where Uber and Lyft were invented, according to a comparison of two separate surveys.
Twenty-eight percent of those surveyed in China use ride-hailing apps, according to GlobalWebIndex, which conducted the survey for Ford Motor. India had the same percentage of usage, which was tops among 12 markets in the Asia-Pacific region.
The survey, conducted in January, polled 12,619 people, with around 1,000 from each market in the region, and showed that usage of the ride-hailing apps is on the rise in China, with 33 percent of Chinese respondents reporting increased use from a year earlier.
Earlier this month, Tencent said Didi Chuxing, China's largest car-hailing app, handled 1.43 billion rides in 2015, followed by Uber, which had 1 billion rides for the same year.
An industry expert who asked to be anonymous said both figures could have been higher if traffic authorities had not gone around airports and railway stations to trap car-hailing app drivers nationwide.
In the US, however, it is a different picture according to a report late last month by the Pew Research Center.
It said that 15 percent of American adults said they have used a ride-hailing service such as Uber or Lyft.
Fifty-one percent are familiar with these services but have not actually used them, while 33 percent have never heard of these services before, the report said.
That probably explains Apple Inc's announcement that it will invest $1 billion in Didi.
Tim Cook, who hailed a car using the Didi app when he was in Beijing recently, told Xinhua News Agency that Apple had chosen to invest in Didi because it has been "an incredibly great success story on the App Store", aside from being a leading ride-sharing service both in China and abroad.
Surveys show that the demographics of those who use car-hailing apps are similar for China and the US.
The Pew report reveals that ride-hailing usage in the US is high among young adults, especially college graduates and those with a higher income.
It indicates that 29 percent of college graduates have used ride-hailing services. But among those who have not attended college, just 6 percent have used the services.
In China, a Tencent poll shows that 53 percent of those surveyed with a monthly salary of 5,000 yuan ($762) to 8,000 yuan use car-hailing apps like Didi and Uber, as do 49.3 percent of those who have received a college education.
People familiar with car-hailing in China say that although convenience and experience are important, what is often ignored is that cost is the decisive factor in hailing a ride.
"You will often find passengers who say it is easier to get Didi cars but hail Uber cars instead. When you ask them why, they say 'It is cheaper'," said Han Tao, a daily commuter in Tianjin.
The same can also be said of drivers in China. In Beijing, it is commonplace for drivers to have several ride-hailing apps on their mobile phones.
"Subsidy policies from ride-hailing companies change quickly and I take orders from companies from which I can earn the most money," said Li Shiqiang, who said offering rides in his car is his full-time job.
"It does not matter whether it is from Didi, Uber or whatever. After all, I am doing this for a living."