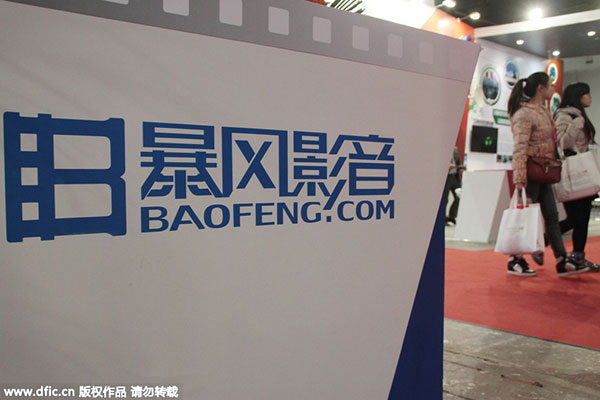 The booth of Baofeng Technology Co at an exhibition in Beijing, Dec 11, 2014. [Photo/IC]
Move follows the acquisition of 65% stake in MP & Silva
Baofeng Technology Co Ltd, an internet entertainment and technology company, on Tuesday announced it has set up a subsidiary specializing in sports, a move which follows its acquisition with Everbright Securities Co of a 65 percent stake in sports media rights firm MP & Silva Ltd.
The Beijing-based group said the new unit, called Baofeng Sports, will strengthen cooperation with Chinese brokerage Everbright Securities and MP & Silva in the fields of sports copyright, content, internet services and virtual reality.
On Tuesday, Baofeng launched a series of sports service portals, such as mobile apps, a website and a sports channel.
It has also obtained the new media broadcasting rights for the Chinese Football Association Super League for its 2016 season. The company has become the official partner of the China Basketball Association for its 2016 season and will make official VR videos for the Chinese women's basketball team.
"We hope to connect sports content and services with people, making sports coverage change from one-way broadcasting and viewing to participation and interaction through the internet, TV, VR and other new technologies," said Feng Xin, chairman and CEO of Baofeng Technology.
The company also on Tuesday launched a VR content and production plan. It said it has been involved in close cooperation with the CBA to explore recording and playback of VR content.
It is the first step that Baofeng Technology has made into the global sports industry and the global sports' media copyright market.
In late May, it established the Shanghai Jinxin Investment Fund with Everbright Securities and bought a 65-percent stake in MP & Silva. The 10-billion-yuan fund invests in culture, internet, sports, education, healthcare and other sectors.
The government has pledged to create a sports economy worth more than 5 trillion yuan by 2025, encouraging companies toward mergers and a wider reorganization and supporting their overseas M&As, to boost the development of the sports industry.
Andrea Radrizzani, the co-founder of MP & Silva and in charge of Baofeng Sports' international business, said at the launch ceremony that the new subsidiary would build up "a new VR sports experience" and explore more diversified business models, bringing world sports events to China, and help Chinese sports go global.
MP & Silva is a leading operator in global top sports events, especially in soccer. It distributes sports programing to more than 200 countries and regions around the world and owns more than 90 copyrights of global sports events.