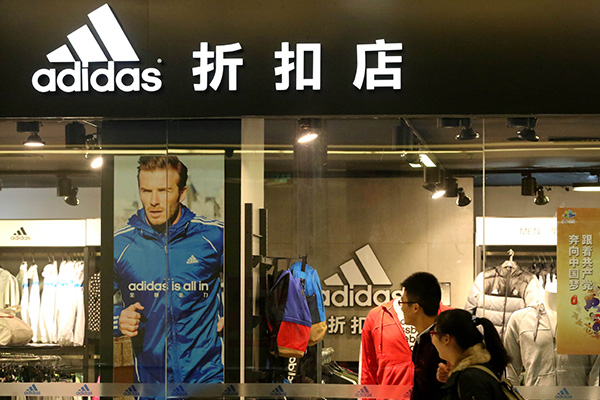 People walk through an Adidas store in Huaian, Jiangsu province, Nov 30, 2014. [Photo/CFP]
German sportswear maker Adidas AG will expand its retail network in China from the current 9,000 stores to 12,000 by 2020, a top executive said on Friday.
"With interest in sport in China continuing to gather pace, our newly unveiled 'Creating the New 2020 Greater China' strategy will further build upon our recent achievements and lead Adidas to become China's best sports brand by 2020," said Colin Currie, managing director of Adidas Group China.
Adidas recorded an 18 percent growth in sales in China last year, driven by the so-called performance and style products, according to its annual report.
Different from its previous emphasis on fast expansion, the company's new five year plan focuses on productivity in 23 key cities as they represent potentially more than 50 percent of business in China, Currie said.
Adidas intends to grow and exceed industry average by concentrating on sports performance, sports casual, outdoor and kids products.
Its core brands include Adidas, Reebok, TaylorMade and Reebok-CCM Hockey.
In China, it employs more than 3,000 people.
The company's China operations generated sales worth 2.5 billion euros ($2.74 billion) in 2015, the annual report showed.
Overall Adidas revenue grew 16 percent to 16.9 billion euros in 2015 from 14.5 billion euros in 2014.
Net profit was up by 12 percent with double-digit sales increases in Western Europe, China, Latin America and the Middle East, Africa and Asia.
Reebok was one of the best-performing brands, with global sales rising by 6 percent in 2015.