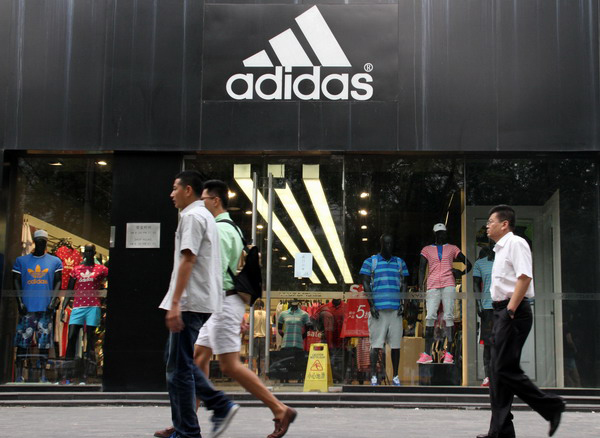 Pedestrians walk pass a Adidas flagship in Beijing on July 19, 2012. [Photo/Asianewsphoto]
Sportswear giant Adidas Group AG said on Thursday that it would start sourcing more products from countries like Vietnam, Cambodia and Indonesia to offset the pressure from higher labor costs in China.
The company, however, clarified that the move would not have a significant effect on the current sourcing volumes from China.
Sabrina Cheung, senior director of corporate communications for Adidas Group in China, said that the decision is more an effort by the company to have multiple sources for products and to cater to future requirements.
Cheung reiterated that China would account for about 30 percent of all the products sourced globally by the Adidas Group for its requirements.
"The real numbers and total volume from China will not change much," she said.
Her comments come close on the heels of a recent Reuters report indicating that Adidas has charted a plan to cut product sourcing in China over the next five years due to rising labor and material costs.
John McNamara, head of global sourcing at Adidas, told investors recently that he expected labor costs to keep rising by 11 percent to 15 percent a year, while prices of raw materials like cotton and nylon could increase by 1 percent to 4 percent every year, the report said.
McNamara said Adidas would cut the amount of cloth and shoes it sources from China, while increasing orders to Indonesia, Vietnam, Cambodia and Myanmar. Myanmar is expected to account for about 4 percent of Adidas' shoe production by 2020. "We see Myanmar as one of the last great sourcing markets for our type of products," he said.
In China, the group employs more than 3,000 people and generated sales of 1.8 billion euros ($1.98 billion) in 2014.
Adidas China said the company does not own any factories and all of their manufacturing is done through partner suppliers. In China, Adidas has 259 partner suppliers. "Adidas is not taking away any production sites," said Cheung.
In 2012, Adidas closed its fully owned factory in Suzhou, Jiangsu province. Its rival Nike Inc has also closed its only shoemaking factory in Taicang, Jiangsu province, in 2009.
Sun Huaibin, spokesman for the China Textile Industry Council, said rising labor costs have prompted foreign-invested apparel and shoemaking companies to relocate their production sites to neighboring countries. Sun said such trends are also a result of the Trans-Pacific Partnership agreement, which contains measures to lower trade barriers such as tariffs among 12 Pacific Rim countries including Vietnam, Japan, Australia and the United States.
Adidas is also setting up a factory in Germany operated largely by robots that will make its first 500 pairs of running shoes early next year as it seeks to cut labor costs and speed up deliveries to fashion-conscious consumers. It has shifted most of its production from Europe to Asia and now relies on more than 1 million workers in contract factories, particularly in China and Vietnam.
The new "Speedfactory" in the southern town of Ansbach near its Bavarian headquarters will start production in the first half of 2016 with a robot-made running shoe that combines a machine-knitted upper and springy "Boost" sole made from a bubble-filled polyurethane foam developed by BASF.
Adidas currently makes about 600 million pairs of shoes and items of clothing and accessories a year. The company is also contemplating measures to hedge against the stronger greenback, but cannot completely offset the impact on gross margins in 2016, it said.