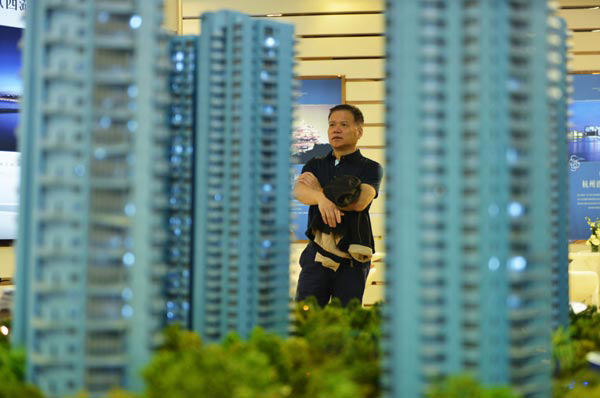 A man examines property models at a housing sales center in Hangzhou, capital of Zhejiang province. [Photo/China Daily]
The government is reported to be considering merging two categories of property-related taxes to eliminate redundancy.
Citing sources from "relevant authorities", the official Economic Information Daily reported this week that two existing taxes-on holders of real estate and users of urban land-will be replaced by a more proper property tax to be collected by local governments.
The newspaper is affiliated with the official Xinhua News Agency.
The news caused quite a stir in the Chinese business media and among homeowners, although no details were given about when the new tax would be established.
China's current property tax system is a hodgepodge of local taxes levied on construction, sales and holding of land and buildings.
The proposed merger of the two taxes would cover only a small portion of the total pie but may point to the future evolution of China's property tax system.
The two existing taxes in question are based on area rather than market value. By comparison, the proposed new property tax on commercially used property would be based on market value, while the tax on residential property is not clear, the report said.
But any proposed change is likely to be controversial, the report said.
"Taxing on the basis of market value will be a big challenge because property prices in major cities have risen to such a level that even a 1 percent rate would be a heavy burden for ordinary people," said Yang Zhiyong, a researcher with the Chinese Academy of Social Sciences.
The two taxes, according to the Ministry of Finance, totaled 384.4 billion yuan ($60 billion) in 2014, accounting for 6.5 percent of local governments' tax revenue.
The report said all new tax revenues would be assigned to local governments.
It also said the new tax rate would be decided by local governments.
Shi Zhengwen, a professor of fiscal and tax law at China University of Political Science and Law, said property taxes will be a major revenue stream for local governments in China, but building the system may take 10 to 20 years.
The Ministry of Finance did not respond to a request for comment.
"There are still many questions to be answered," said Ma Jun, a researcher with the Chinese Academy of Social Sciences. "How is the new tax to be levied? For example, will it cover all existing homes or only new homes? Will it cover all housing or only urban houses? How will the tax rate be decided?"