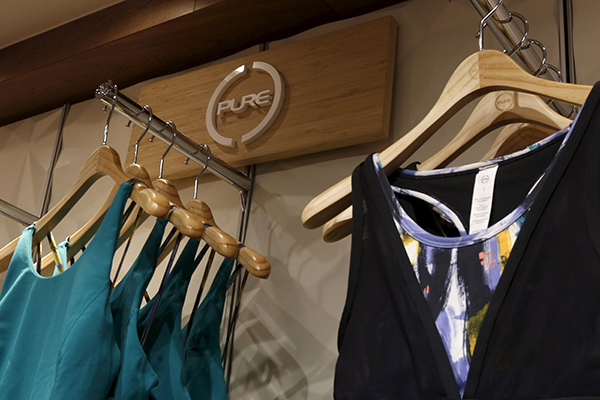 Pure apparel are displayed at its fitness center in Hong Kong on Feb 3. [Photo/Agencies]
GPS sport watches, compression leggings and hydration packs are the new must-haves for wealthy Chinese, pumping up the multibillion-dollar sportswear industry at a time when China's elite are reining in spending on more traditional luxury brands.
Extreme sports apparel and expensive activewear is in vogue thanks in part to government promotion of sport ahead of the 2022 Winter Olympics in Beijing, and the purchase of the Ironman brand by China's richest tycoon last year.
The market is also forecast to grow with the government's decision to relax its one-child policy after 36 years, and companies like US-listed Under Armour is lining up to cash in.
"It is huge-that wellness and healthy lifestyle opportunity in the whole of China," said Colin Grant, chief executive of the Hong Kong-based Pure Group, an operator of gyms, yoga, retail and nutrition businesses across Asia.
China will host its first ever Ironman events this year after billionaire property developer Wang Jianlin bought World Triathlon Corp for $650 million. The deal is set to capitalize on a growing fitness craze which saw 134 marathon and road-running races held across the country last year, up 160 percent from 2014, according to the Chinese Athletic Association.
For Under Armour and Lululemon Athletica, two of the Western brands already active in China, the country offers an opportunity to grow outside the mature markets of the US and Europe.
US sportswear maker Under Armour expects China sales to leap 25 percent a year until 2018, while Vancouver-based yogawear giant Lulu-lemon says its first Hong Kong store is on track to make $8 million in sales this year.
But they face a strong field of Chinese rivals such as Anta, Xtep and 361 Degrees whose share prices soared between 34 percent and 56 percent last year.
That compares with traditional luxury titans like Italy's Prada-a maker of fancy handbags-which sank 45 percent on the Hong Kong exchange last year as the clampdown on corruption and the slow economic growth forced China's elite to change their spending habits.
Some of the money once spent on French wine and Italian leather now appears to be flowing into high-end heart-rate monitors and running shoes.
China's sportswear market will surpass the luxury goods market by 2020, according to Euromonitor, with double-digit growth each year to 280.8 billion yuan ($43.10 billion) compared with luxury's single digit growth to 192.4 billion yuan in the same period.
China's market is only just starting to flex its muscles. The sports sector contributes 0.67 percent of China's total gross domestic product, compared with 2.2 percent in the European Union and 3.5 percent in the United States, according to Oriental Patron Research.