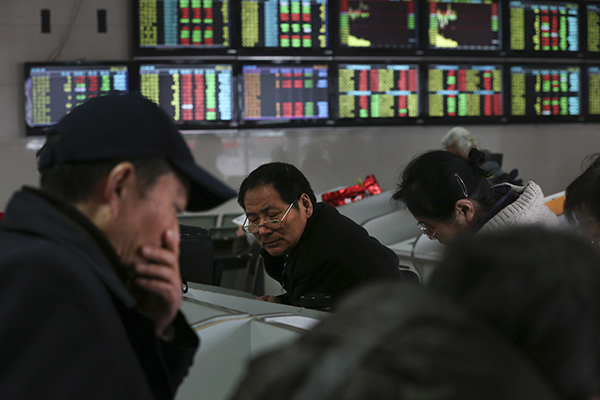 An investor checks stock prices at a securities brokerage in Nantong, Jiangsu province. [Photo/China Daily]
But analysts warn of signs that equities are due for price decline
Analysts said on Friday that Chinese stocks may be showing signs of a short-term correction, after a continued roll out this week of government measures to shore up the economy.
The benchmark Shanghai Composite Index edged ahead 0.1 percent in volatile trade on Friday, paring its weekly gain to 3.49 percent, the biggest rise in two months.
"The probability of a short-term correction is rising," wrote Guangzhou Securities' analyst Jin Zi in a note, citing the shrinking turnover as the sign of stronger investor sentiment.
The People's Bank of China said Friday it will adjust banks' reserve requirement ratio on Feb 25. Unqualified banks will no longer enjoy a favorable RRR requirement, the PBOC said.
The PBOC said the adjustment had nothing to do with January's new loan growth after media reports suggested the central bank may hike reserve ratio for banks to contain risks after the surge in credit last month.
Some analysts said the move may underscore concerns by the Chinese monetary authority that too much credit loosening may undermine the country's economic reform and destabilize the value of the renminbi.
Nonetheless, the stock market may continue to respond positively on investor anticipation of more supportive government policies to shore up the economy, particularly the property market, they said.
The Ministry of Finance also said it will cut taxes on home transactions in a bid to help reduce oversupply in the property market.
The cut came after officials lowered mortgage down payment requirements to the lowest level ever earlier this month.
With signs the economy is stabilizing in the near term, China's stocks may extend the recent "relief rally", Bloomberg quoted Kinger Lau, a Hong Kong-based strategist at Goldman Sachs Group Inc, as saying.
The China Securities Regulatory Commission also denied earlier reports it has suspended the approval of domestic fund applications for overseas investments under the Qualified Domestic Institutional Investors program, fearing a weaker yuan.
Deng Ge, the CSRC spokesman, said the regulator maintained its normal processes for the registration and sales of QDII products.
Regulator launches retail-investor pilot project to empower shareholders
China is launching a pilot program to allow public financial institutions to act on behalf of retail investors in the country's listed companies.
Planned for Shanghai as well as Guangdong (excluding Shenzhen) and Hunan provinces, the program will be managed by Zhongzheng Smaller Investors Service Center Co Ltd, a public financial institution set up by the China Securities Regulatory Commission in 2014.
Under the program, the company will buy 100 shares in each of the listed companies in the pilot city and provinces, CSRC said on Friday.
Deng Ge, the CSRC spokesman, said its purpose is to empower smaller investors and shareholders by offering them a voice in the voting and decision-making process of listed companies.
The pilot is also aimed an enhancing supervision and improving the corporate governance of listed companies, Deng said.