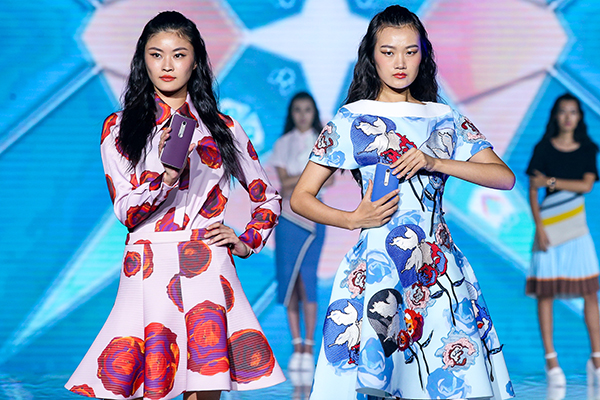 Models display Lenovo's new smartphones at a product release in Shanghai. [Photo provided to China Daily]
Sell-off comes just a week after troubled firm reveals its first annual loss in six years
Lenovo Group Ltd's shares dropped 4 percent on Thursday, after it was revealed that Google Inc was looking to offload about 371 million shares in the Hong Kong-listed company.
The shares are being offered at HK$4.58 (59 cents) per share, a discount of 3.6 percent on Wednesday's close, and Google is expected to raise about $219 million, Bloomberg reported.
Both companies declined to comment on the announcement, but analysts said Google's move marked the latest blow to the Chinese tech conglomerate as it struggles to revive faltering smartphone and personal computer businesses.
The sale also comes just a week after Lenovo reported dismal March quarter results and its first annual loss in six years, as it continued to wrestle with the integration of a US acquisition and a slowdown in demand for smartphones and computers.
In March, Reuters reported International Business Machines Corp was seeking to sell its Lenovo shares, which can be worth up to $150 million.
Shen Meng, director of Chanson & Co, a boutique investment bank in China, said it will be difficult for Lenovo to turn around its fortunes in the short term, given the company's traditional corporate structure and culture.
"Lenovo is facing mounting challenges, and it is reasonable for Google, a non-majority shareholder in the company, to sell its shares," Shen said.
Google bought 618 million Lenovo shares in 2014, as the Chinese company bought Google's Motorola Mobility for $2.91 billion.
Since then, however, the value of its shares has dropped by almost 60 percent.
But Shen added the sale does not mean Google is losing confidence in Lenovo in the long term, as even after selling the 371 million shares, the US tech firm still holds more than 200 million Lenovo shares, assuming no other small-scale selling has occurred.
Still considered the world's largest PC maker, in the first quarter of this year, Lenovo was hit with an 8.5 percent plunge in personal computer shipments, data from research agency International Data Corp show.
And the news is even worse on smartphone sales, with the firm now falling behind its Chinese rivals Oppo Electronics Corp and vivo Mobile Communication Technology Co Ltd, and dropping outside the global top five vendors for the first time in four years.
James Yan, research director at Counterpoint Technology Market Research, said to compound matters, Lenovo is also in desperate need of cash, after digging into its profits to rejuvenate smartphone sales.
"In the near future, Lenovo will have no option but to rely on PC and tablet business for profits and its smartphone unit for revenue.
"But both are not easy given the fierce competition," Yan said.
On Tuesday, the company launched its latest smartphone, the middle-range ZUK Z2, with great fanfare, which it insisted would propel it once again into the top tier of phone makers within two years. Officials were equally bullish about promoting its Moto brand in overseas markets.
According to its latest fiscal report released last week, the company registered a net loss of $128 million for the fiscal year that ended in March. Only one year earlier, Lenovo reported a profit of $829 million.