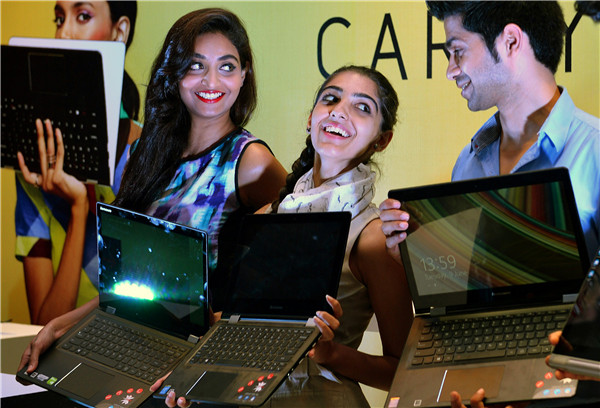 Indian models pose with the flexible YOGA range of Lenovo laptops during their launch in Bangalore last year.AFP
Technology giant reports its first loss in six years
China's technology giant Lenovo Group reported its first loss in six years which it blamed on the cost of previous acquisitions and restructuring, as well as the declining sales of smartphones and personal computers.
According to its annual fiscal report released on Thursday, the Hong Kong-listed technology company registered a net loss of $128 million for the fiscal year ended March. Only one year earlier, Lenovo reported a profit of $829 million.
Lenovo's annual sales revenue for fiscal year 2015 also dropped 3 percent to $44.9 billion. Excluding the impact of foreign exchange, the company's revenue rose 3 percent.
The less-than-stellar performance of the personal computer sector was one contributor to Lenovo's loss. While taking up 66 percent of the group's total income, sales of PC fell 11 percent to $29.6 billion.
Alex Ng, a senior analyst with Hong Kong Equity Research of China Merchants Securities (HK) Co Ltd, said that slower-than-expected PC market recovery globally will still be a great challenge for the company even though the executives have sought tighter cost control to drive a recovery in profitability.
The situation is expected to continue in the following months given the sluggish macroeconomic environment and slower replacement demand.
According to global market consultancy Gartner Inc, global PC shipments were only 64.8 million sets in the first quarter of this year, hitting a record low since 2007. Lenovo, which is still the world's largest PC maker, shipped 12.1 million sets in the first three months, down 8.5 percent year-on-year.
The costs of multibillion-dollar acquisitions in 2014, including the Motorola handset division of Google Inc and low-end server arm System X of IBM, have also been a major factor in pulling down Lenovo's 2015 income.
James Yan, research director at Counterpoint Technology Market Research, said the acquisition of Motorola can contribute to Lenovo's long-term development. But so far, Lenovo has failed to integrate the former's technological strength into its mobile business unit. As the company's ZUK brand handsets gain momentum among young people, Lenovo's financial performance will fare better in the second half of the year, he said.
Yang Yuanqing, Lenovo's chief executive officer, explained in a filing to the Hong Kong Stock Exchange that the revenue decline was "due to currency fluctuations and slower PC demand, while the group was building up the quality of its smartphone business".
Since last June, Lenovo has made a number of moves to revive its faltering smartphone business, including naming its senior Vice-President Chen Xudong as the head of its China mobile business group. Yang also stressed at the Consumer Electronics Show held in Las Vegas at the beginning of this year that Lenovo will make a difference to the smartphone sector in 2016.
Contact the writers at shijing@chinadaily.com.cn and masi@chinadaily.com.cn