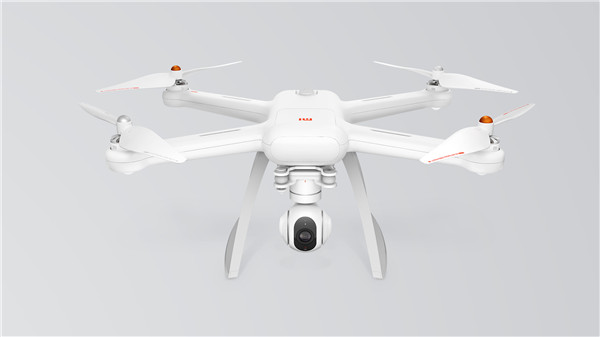 Mi Drone, Xiaomi Corp's new product.CHINA DAILY
Industry experts are warning that Xiaomi Corp's current rate of expansion into drones, robotics, virtual-reality devices, and smart-home related products might not be enough to make up for falling revenues from declining smartphone sales.
The company's founder and CEO Lei Jun hosted a live-streaming event on Wednesday evening to launch its latest product, the Mi Drone, its first drone. The model, equipped with a 4K ultra-HD camera, is priced at 2,999 yuan ($458).
Lei also revealed his firm is developing its own robot and VR devices, with launches earmarked for sometime in August or September, and that its smart band and bracelet, the Mi Band2, will be launched on June 7.
Xiaomi created a new division in February to tap into the nascent VR sector, which analysts forecast could rival the earning potential of the smartphone industry in the future.
It has also launched an air purifier, and the Ninebot mini, an electric self-balancing two-wheeled vehicle.
And in March it unveiled a smart rice cooker under the brand Mijia, Xiaomi's newly-launched sub-brand for its ecosystem products.
According to a latest report in Fortune magazine, however, the world's fifth-largest smartphone maker's revenues was flat last year. Its revenue reached 78 billion yuan in 2015, up just 5 percent from 74.3 billion in 2014.
Taking into account depreciation of the yuan, Fortune said its sales rose just 3 percent in US dollar terms, compared with 135 percent in 2014.
Consulting company International Data Corporation has said 434 million smartphones were sold in China last year, an annual rise of just 2.5 percent.
But despite Xiaomi's innovative moves to try and counter those weakening numbers, Kitty Fok, a director of IDC China, warned that it remains crucial Xiaomi increases the pace of its expansion into other fields.
"The drone market, especially commercial drones, offers promising prospects-but the competition is fierce, given Chinese firm DJI Technology Co Ltd has built a dominant position," said Fok.
IDC estimated Xiaomi sold 71 million smartphones last year, but it also said that the company remains too reliant on the domestic market for growth, with 90 percent of its total sales still coming from home, despite huge demand in India and Brazil.
IDC showed the sales of Xiaomi smartphone declined by 5 percent in the first quarter, being kicked out of the world's top five for global smartphone market share.
James Yan, a Beijing-based analyst at Counterpoint Technology Market Research, said: "Its VR, air purifier and other smart-home-equipment sales are still making too small a contribution to total revenue, compared with smartphones, routers, and other hardware devices, which remain its main businesses."