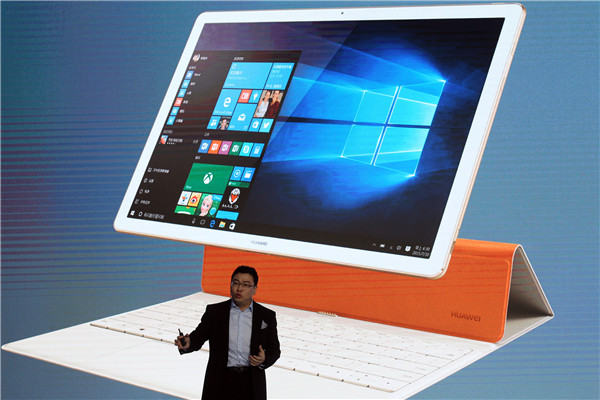 Wan Biao, president of Huawei Technologies Corp's mobile broadband and family products division, introduces the company's latest product - the Huawei Matebook, which retails from 4,988 yuan ($760.67), in Beijing on May 26, 2016.[Photo by Zhang Wei/China Daily]
Huawei Technologies Co officially launched on Thursday its first laptop-tablet hybrid product in China, a move to test water in the personal computer business in its home market.
The 2-in-1 device named MateBook is the Shenzhen-based tech giant's first personal computer product. With a retail price from 4,988 yuan ($760.67) in China, the device boasts a beautifully crafted metal unibody and its battery can last for 10 hours once fully charged.
"We hope this device can redefine the new style of business," said Wan Biao, president of Huawei Technologies Corp's mobile broadband and family products division, adding the device targets business professionals who are style and fashion conscious.
The core device of the MateBook is a tablet with a detachable keyboard much like Apple's iPad Pro, and runs Microsoft's latest operating system Windows 10.
The launch of the device came at a time when global personal computer market saw 9.6 percent year-on-year decline in the first quarter of 2016.
Statistics from Gartner showed that the first three months of this year saw PC shipment fall below 65 million units, a decade-low since 2007.
James Yan, research director at Counterpoint Technology Market Research, said Huawei's move of tapping into PC market is more a strategic expansion in its device portfolio.
"I doubt the 2-in-1 device can give a significant boost in Huawei's consumer electronic business," he said, adding people usually change their smartphones in one or two years, but it takes three to five years for them to change their personal computers.
Huawei has been capturing market shares from Apple's iPhone in China thanks to its efforts in higher-end smartphone market. But Yan said it is too early to tell whether Huawei can enjoy the same success in personal computer market.
Analysts said that Huawei's MateBook is in direct competition with Apple's iPad Pro and Microsoft's Surface. The 12.9-inch iPad Pro retails from 5,888 yuan in China and Surface Pro 4 retails from 6,688 yuan in China.
Counterpoint Technology Market Research estimated that Apple shipped roughly 1.1 million iPad Pros globally in the first quarter of 2016 and the Surface line shipped close to 1.2 million units in the same quarter. The two product lines together took 5.4 percent of the total global tablet market in the first quarter.