Selfie lovers will fancy a new approach to emancipate their hands.
Beijing-based ZeroTech Intelligence Technology Co Ltd unveiled a pocketable drone that specifically focuses on photography usage Wednesday at the Guiyang Big Data Expo.
Priced at 1,899 yuan, the device will start crowd-founding at the end of this month and will be shipped a month later.
Equipped with Qualcomm's Snapdragon 801 chip and SMART all-in-one solution designed for drones, Dobby secured a series of functions that used for pictures and videos capturing and sharing, including facial identification, one-clip make up and share, 4K video shooting and voice control.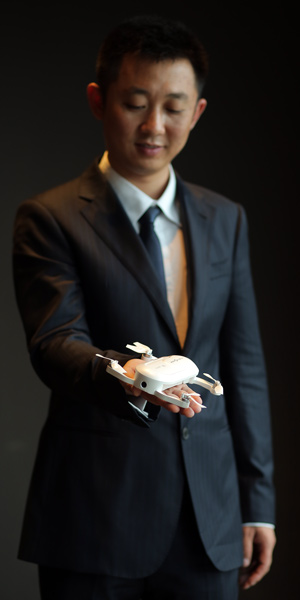 Yang Jianjun,founder and CEO of ZeroTech, holds the company's newly-launched consumer drone named Dobby. [Photo provided to chinadaily.com.cn]
"By comparing with western consumers who are keen on following user-friendly and diversified products, Chinese buyers are being more price-sensitive so as to reach a compromise between functional requirements and production applications," said CEO Yang Jianjun.
Yang also indicated that consumer drones will be developed as a proper tool for 360 degree panoramic video shooting, and that it will feed the content consuming demands for virtual reality device users.
Yang believes that the market boom of consumer drones will be triggered in the second half of this year and Dobby will become a flyable camera that stands out in the photographic equipment market.
Sports camera GoPro has been recognized as the industry pioneer that builds user provided content platforms that allow consumers to contribute and consume content that they self-produce.
According to Yang, Dobby is a product that will help users build the same content sharing platform as GoPro.
Founded in 2007, in Beijing, ZeroTech has been one of the early pioneers in the country's Unmanned Aerial Vehicle (UAV) industry. The company used to focus on creating and manufacturing professional UAVs that worked for aerial photography, agricultures, and security area.
According to a study on China's civilian UAV released by domestic consulting firm Analysys last year, civilian UAV has been a discussed topic in Chinese communities as well as capital market since 2014.
The market scale is expected to witness a rapid growth through 2016 to 2017, and reach 11.09 billion yuan in 2018, according by the study.
Another research company Taibo Intelligence also pointed out that the global UAV market's profit has seen rocket boom, with a 100 percent increase year-on-year, reaching 2.5 billion yuan. Among the units shipped around the world, consumer products, or civilian UAVs have reached to 4 million, and given the big market potential that appear, the volume will increase to 16 million by 2020.
Domestic manufactures continue to throw their hats into the market due to increasing demands of hardware in the sector.
According to a report that specializing in evaluating the investment outlook of China's drone market from 2016 to 2022, consulting organization ibaogao.com said: "there are more than 400 drone manufacturers in China at present, and UAV has ranked one of the top products that frequently listed on domestic crowd-founding platforms, such as JD.com or Taobao."
Taking Shenzhen as an example, the report said as of November last year, the city has exported a large number of drones that worth 2.72 billion yuan around the globe.