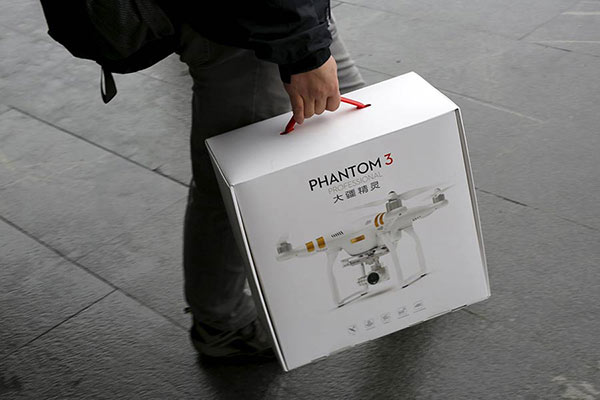 A customer carrying a box containing DJI's Phantom 3 drone leave from their first flagship store in Shenzhen, Guangdong province, China December 20, 2015.[Photo/Agencies]
GUANGZHOU -- The export volume of civilian drones in South China's Shenzhen, increased seven times in 2015 year-on-year to reach 3.09 billion yuan ($472 million), customs data showed.
The city's civilian drones were mainly exported to Hong Kong region, North America and Europe, according to Shenzhen Customs, Guangdong province.
The monthly export jumped from 130 million yuan in January to 450 million yuan in December.
Shenzhen produces 99 percent of the civilian drones for export. The drone industry is one of the city's priority sectors.
Shenzhen-based DJI, a leading manufacturer of commercial and recreational drones for aerial photography and videography, holds almost 70 percent of the market share worldwide, with Europe and North America named its biggest customers.