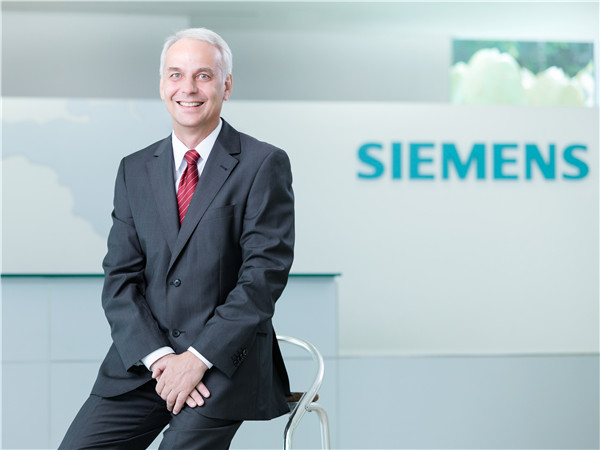 Lothar Herrmann, president of Siemens China
German wants to further tap into deep experience of Chinese groups in the projects related to ECP
German engineering and electronics conglomerate Siemens AG wants to form more partnerships with Chinese power, energy and infrastructure companies to develop EPC projects along the Belt and Road Initiative, to further diversify its global sales, its head in China said.
EPC projects, or engineering, procurement and construction projects, are a common form of contracting arrangement in the construction industry.
Chinese companies such as China Energy Engineering Co, Power Construction Corporation of China, China Petroleum & Chemical Corporation and China National Petroleum Co have built up deep experience in the business model in overseas markets, especially in developing countries.
Lothar Herrmann, president of Siemens China, said with more than two years of development, the Belt and Road Initiative has proved to be a practical tool for driving the growth of both Chinese and global companies.
Countries such as Morocco, Pakistan, Iran, South Africa as well as countries in South America all have demand in their markets to improve their power and infrastructure sectors, which is attractive to these companies.
The initiative, proposed by the Chinese government in 2013, envisages a Silk Road Economic Belt and a 21st Century Maritime Silk Road covering about 4.4 billion people in more than 60 countries and regions in Asia, Africa and Europe.
Siemens had joined forces with more than 100 Chinese EPC projects in exploring nearly 60 overseas markets by the end of 2015. It assisted Chinese EPC enterprises in installing 37 heavy-duty gas turbines, 17 small and medium-sized gas turbines and 11 steam turbines in more than 10 countries.
The company plans to expand capacity and accelerate the localization of its power generating, infrastructure, transportation, petrochemical engineering, mining and manufacturing products in its plants in China. The group has operations in more than 200 countries and regions and has more than 350,000 employees worldwide.
"With their ingenuity, we support these manufacturers in their challenges in the long run, building sustainable energy systems and making the infrastructure more intelligent," Herrmann said. "With strong partnerships with Chinese companies, we are certain we can help create better lives for people along these two trading routes with Chinese EPC projects and customers."
The initiative has brought new opportunities in overseas projects for Chinese EPC companies. Chinese companies signed about 4,000 overseas EPC contracts in 60 countries and regions along the initiative in 2015, while the total contract value reached $93 billion, data from the Ministry of Commerce show.
Eager to diversify their sales channels, other multinationals such as Maersk Line A/S, DHL International GmbH, UPS Inc, Volkswagen AG, Samsung Electronic Co Ltd and Bridgestone Corp, have either deployed resources in China or formed new partnerships with Chinese companies to enhance their market presence in economies along the trading routes.
"Having a strong partnership with multinationals such as Siemens will help Chinese companies cut their risks on project and finance management in overseas markets. They can also help Chinese EPC projects with financing including equity investment, project loans, export credit and consulting services along the Belt and Road Initiative," said Ding Yanzhang, general manager of China Energy Engineering Co.