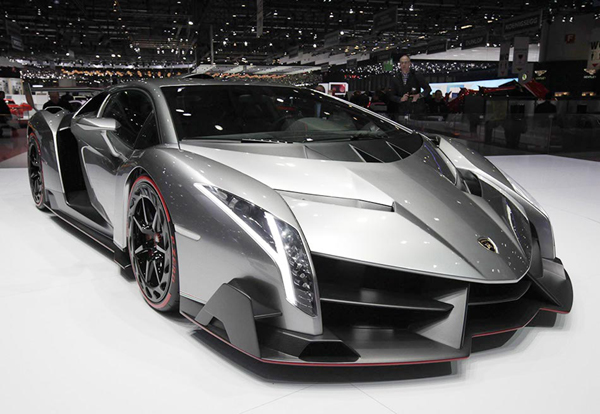 The Veneno car is pictured on the Lamborghini booth during the second media day of the 83rd Geneva Auto Show at the Palexpo Arena in Geneva March 6, 2013. The Veneno is said to be produced on order with a limited amount of three around the world. [Photo/Agencies]
China's parallel-import car sales are growing at the fastest pace in the past two years, at 31.5 percent to more than 150,000 this year, according to a leading industry insider.
"It has been the best time for the parallel car business," said Tong Shiping, chairman of Tianjin Binhai International Automobile Mart Co Ltd.
"The segment is driving forward fast, thanks to strong local demand and favorable policies," he added.
Tong said the country's parallel-import car sales were up 7.5 percent in 2015, of which 85-90 percent came from one of its free trade zones in Tianjin.
In a parallel-import business, auto dealers directly purchase vehicles from a foreign production base or auto dealer. Prices for parallel-import cars are normally 10 to 20 percent lower than the prices offered by automaker-authorized dealers.
Tianjin Binhai International Automobile Mart, built in 2000, is a 44,000-square-meter national car-display mall.
"We interacted with more than 1,200 parallel-import car dealers nationwide and had about 100,000 transactions in 2015, which were valued at 70 billion yuan ($10.6 billion)," said Tong.
Tianjin also increased the number of trials or pilot schemes for parallel vehicle imports.
In October, to support and standardize the parallel-import car industry, 30 enterprises and five platforms in the China (Tianjin) Pilot Free Trade Zone were selected as pilot ones by the Tianjin Commission of Commerce.
Last month, Tianjin issued preferential policies to support the pilot enterprises and platforms, which included use of a bonded warehouse and a simplification of import procedures.
"Because we have our own supply chain, efficiency is one of the key elements to our business. Therefore, we can benefit the most from the simplification," said Zhao Qing, founder of UGCar, a one-year-old e-commerce auto parallel-importer.
The company has just raised more than 10 million yuan through Series-A financing, led by Gobi Partners and Tianjin Caifujiaji Investment Partnership.
After-sale services, however, are still the Achilles' heel of the industry, Tong said. He said that optimistically, with the push of the policy change by the authorities, dealers were exploring innovative ways to meet the needs.
"Online service is our ultimate goal. We will cooperate with renowned door-to-door service brands to offer the customers more choices online," said Zhao.