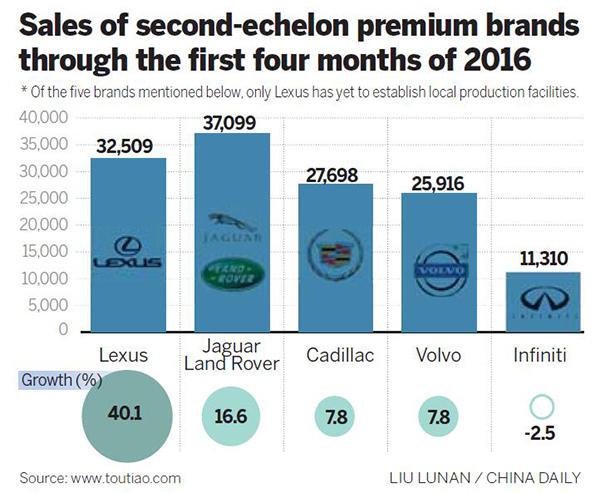 Localization is an exciting word for those in China's auto industry. After all, it implies the importance of the Chinese market, means new job opportunities, brings specifically designed cars and generates taxes.
That's why a stir was caused when people.cn hinted last week that Ford's premium arm Lincoln had plans to produce models in China based on an agreement between the Chongqing government and the China South Industries Group Corp, parent company of Changan Automobile (which has a joint venture with Ford). The automaker soon denied the report, calling it "speculation" in an e-mail to China Daily.
Lincoln is well worth the attention. It sold 11,630 cars in China in 2015, mainly thanks to its SUVs. That is something for the automaker to be proud of because it was the first full year since the United States brand made its comeback in China's increasingly fierce premium car market.
Sales for this year are expected to double last year's after it registered Q1 sales of 5,484 units.
Thus far, Lincoln's performance has yet to meet the threshold of the industry's agreed standard for localization: annual sales of 50,000 units or at least 10,000 units in annual sales for one model.
Don't misunderstand those figures. What sits behind them is an accumulated reputation, a number of options available and an expanding network, and they need time to achieve.
Another thing that is often ignored is that localization will not necessarily ensure sales. Through the first four months of this year, it was Lexus, which has no localization plans, that topped the list of second-echelon premium brands in sales growth rate.
Some would argue that it is an inevitable trend for international brands to localize in China, but that should not and will not be a shortcut, let alone a panacea, for smaller and newer but serious players.
For Lincoln, it is better to first become firmly established by introducing new models and emphasizing car ownership, which will give it more bargaining power when it some day considers localization.