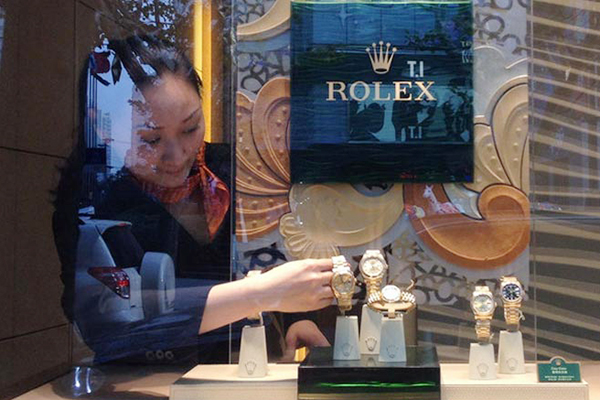 An employee puts a watch into a counter at a store of Rolex in Shanghai. [Photo/IC]
More bad news for the luxury industry: China's affluent travelers, the world's biggest force in global luxury spending, have discovered a preference for having a bite of local cuisine rather than snapping up the likes of Chanel bags and Rolex watches.
That's according to the latest data in an Asian luxury travel report, released recently at the 10th International Luxury Travel Market exhibition in Shanghai.
The report, which interviewed more than 5,300 affluent travelers across Asia over the past two months, tracked the change in consumption spending.
It found that despite the growing desire and interest among the interviewees to "travel more luxuriously in the near future", exploring local cuisines in foreign lands has for the first time overtaken splurges while shopping at outlets, to be the most popular travel activity for both Chinese travelers and their Asian peers.
"The way I see it is that they are spending more time and money sniffing out and enjoying certain cuisines or restaurants. They're no long grabbing a Starbucks and having luxury shopping as their main agenda," said Amrita Banta, managing director of Agility Research & Strategy, the partnering consultancy of ILTM Asia.
"It's not that they are not shopping. But high-end shopping isn't that much of a different experience, whether you are walking into a Chanel store in Hong Kong or in Tokyo," she said.
Amrita added that the unique and culturally choreographed experience is now in vogue in the luxury travel industry, if not in the non-luxury travel sector as well.
The report defines affluent travelers in China as those with a minimum annual household income of 200,000 yuan ($30,390). Among them, half actually have an income above 350,000 yuan and 10 percent make more than 1 million yuan a year.
Yang Ji, manager of China Travel Service Group's Chongqing branch, said food-themed trips, especially involving Michelin-starred restaurants, are among the best-sellers in his region, and shopping malls and outlets are no longer were a "must-see" item on the itinerary.
"I think it's mainly a result of the rise of luxury e-commerce sites, saving travelers more time and effort so they can do the real tourist activities," Yang said.
Yang, however, said he believes the category of affluent travelers should apply to those with a higher level of income, as luxury trips organized by his companies usually start from 100,000 yuan per trip per person.
A Chinese luxury traveler analysis, released by the Hurun Report in 2015, found that less than 30 percent of luxury travelers arranged trips by themselves.
Japanese cuisine, followed by shopping in France and viewing Australian landscape, topped the favorites of the Chinese superrich, who spend 200,000 yuan on traveling every year, according to the report. It found that half of them are from China's rich second generation, or are young entrepreneurs.
Chinese outbound tourists spent 215 billion yuan last year, up 53 percent on the year earlier, and taking up the biggest share of total global travel consumption spending.
But He Jia, deputy editor-in-chief of Chinese travel magazine Niche Travel, said that food enjoys a soaring popularity among Chinese tourists partly because, like shopping, it's "an easy habit".
"You don't need to get a certificate or hire a coach to enjoy food. All you need is a tongue," she said, comparing fine dining with other activities like skiing or diving. And as tourists grow more sophisticated, their interests might diverge even more.