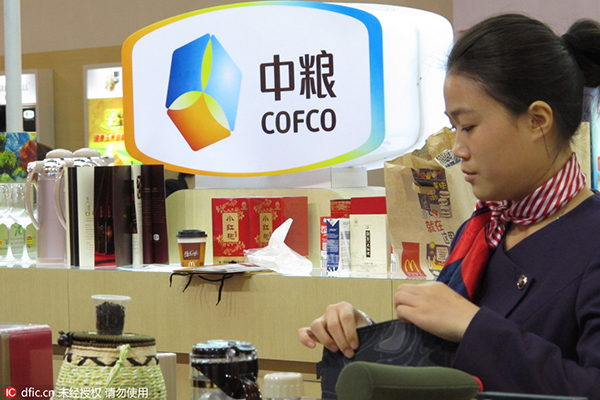 A Chinese employee is seen at the stand of COFCO (China National Cereals, Oils and Foodstuffs Corporation) during a food exhibition in Shanghai, Nov 16, 2014. [Photo/IC]
China's largest food trader is on the hunt for international merger partners and acquisition targets, amid a massive surplus in domestic grain stocks.
Yu Xubo, president of China National Cereals, Oils and Foodstuffs Corp, commonly referred to as COFCO, said the company will concentrate on firms that can help solve food shortages at home, and allow the company to develop a global supply chain.
Oilseed, such as soybean and rapeseed, and animal feeds will be its major focus, he said, as China's grain inventory is already at historic highs, including an estimated 250 million metric tons of corn after 12 consecutive years of increased production.
Its prime target markets are the South and North Americas, and areas along the Black Sea in Europe.
"With an adequate supply of staple foods domestically, we will shift our focus to sectors that are in demand in China," he said on the sidelines of G20 Agricultural Entrepreneurs Forum on Thursday in Xi'an, Shaanxi province.
Despite the surpluses, however, Yu said the country still faces a long-term grain shortage due to shrinking quality farmland and over-stretched water resources. "That's why we will continue to focus on grain sectors, especially as the surplus reduces," he said.
Yu said the company is eager to play a bigger role in China's agricultural sector supply-side reform, which is largely focused on solving the grain glut.
"Our solid domestic grain processing and sales network will help absorb stocks," he said. "But we still need to make sure our supply chain is ready when the country's supply-side reform is complete," he said.
COFCO announced in March it had taken full control of Noble Agri Ltd, after buying the remaining 49 percent of the company still owned by Noble Group, the Hong Kong-based global supply chain manager. Noble Agri has now been renamed COFCO Agri.
Reuters reported in April the Chinese company is increasing its stake in Dutch grain trader Nidera BV to 65.5 percent in September from 51 percent.