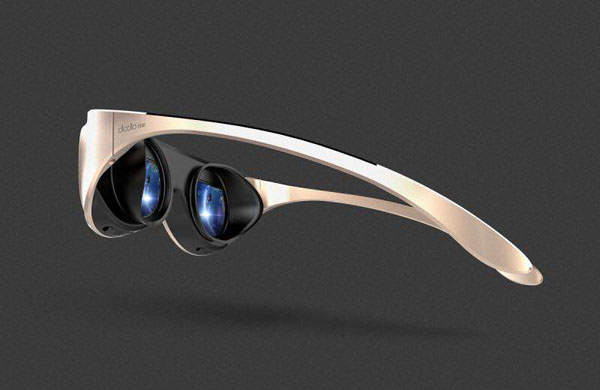 The "Glass V1", released by Shenzhen Dlodlo Technologies Co Ltd. [Photo provided to chinadaily.com.cn]
Shenzhen Dlodlo Technologies Co Ltd, a startup engaged in virtual reality technology research and development, released VR glasses called "Glass V1", which weigh only 78 grams and have a thickness of 16 millimeters.
The "Glass V1" looks more like a pair of sunglasses than a VR headset. Each of the lenses is equipped with a display screen, with a resolution of 2,560x1,024 pixels for each eye, with a 110-degree field of view. Users can connect it to a mobile phone. It will likely be sold in August.
Li Gang, CEO of Dlodlo Technologies, said: "There are over 100 companies engaged in VR devices, but generally speaking, they lack originality and have no experience in developing consumer–level electronic products. Their products are still in a phase of imagination."
Li said the company will continue to maintain high investment in R&D and patents, carry out deep cooperation with smartphone manufacturers to develop VR smartphones.
It also plans to participate in the standard setting of VR smartphone, build up VR content platform and virtual community platform, and cooperate with VR content provider.
According to iiMedia Research, China's total VR market was worth 1.54 billion yuan ($233 million) in 2015. It is expected to exceed 5.6 billion yuan this year and 55 billion yuan in 2020.