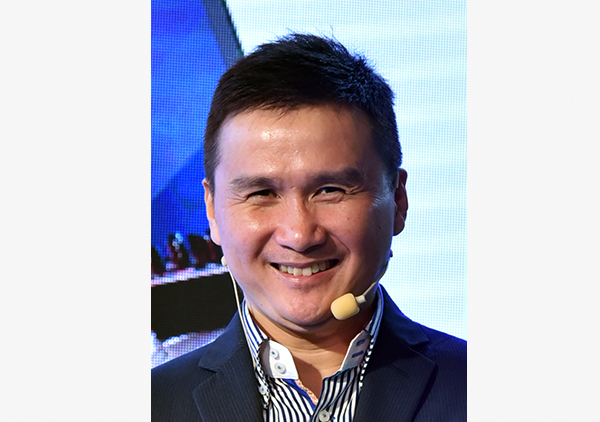 Ray Wah, global vice-president in charge of consumer products marketing at Dell Inc. [Photo provided to China Daily]
Dell Inc launched a new line of laptop-tablet hybrid products on Tuesday, a move to tap into Chinese consumers' growing desire for devices that can facilitate both entertainment and productivity.
The effort came after Dell overtook HP Inc as the top PC vendor in the United States in the first quarter of the year and marks the company's latest push to expand its presence in China, the home market of its largest rival Lenovo Group Ltd.
The latest electronic gadgets, including the world's first 17-inch-screen two-in-one convertible, have a wide range of processor options and features, which Dell said can meet the diversified demands from students and entrepreneurs.
Ray Wah, global vice-president in charge of consumer products marketing at Dell, said: "Chinese consumers' interest level and awareness of 2 in 1 convertibles are getting higher and higher."
"With our new products, they can work where they need to and play when they want to."
The new product line-Inspiron 2 in 1-is essentially notebooks equipped with a versatile 360-degree hinge. The feature allows users to fold a laptop and use it as a tablet, or let it stand up like a "tent" to offer a better video-watching experience.
With virtual reality widely believed as the next industry big thing, as big as the smartphone market, the world' third largest PC maker is also betting on cutting-edge technology to drive up global PC sales.
"We are partnering with top VR equipment makers such as Oculus VR LLC and HTC Corp, which trust us to tune the PC solution for their VR headsets to perfection," Wah said. HTC and Oculus' VR headsets can only operate when connected to high-end PCs.
Data from International Data Corp shows, in the first quarter of 2016, Dell shipped 3.48 million PCs to the US, marking a year-on-year growth of 4.2 percent.
Globally, Dell recorded a decline of 2 percent, outperforming the market which saw worldwide PC shipments down 11.5 percent.
Tracy Tsai, vice-president at Gartner Inc, said currently, both smartphone vendors and PC makers are scrambling to launch hybrid products, a segment that is growing rapidly despite the overall decline of the PC.
"Both tablet replacement buyers and notebook replacement buyers are turning to two-in-one convertibles, which boast the portability of tablets, a large screen size and strong processing capability."
Last week, Huawei Technologies Co also released its first laptop-tablet hybrid product in China, to test the water in the personal computer business.