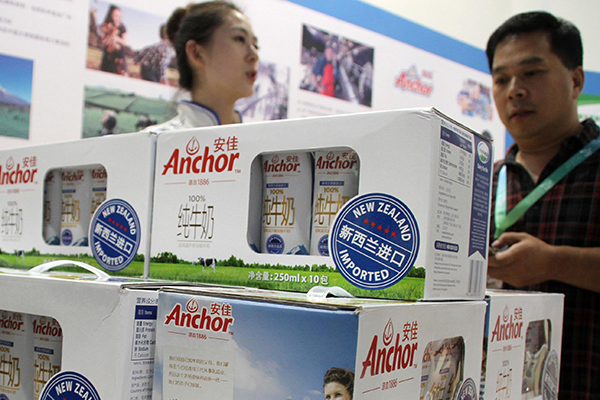 A visitor looks at imported dairy products at an international food expo in Beijing. [Photo/China Daily]
Talking cheese can be an emotional thing for some Chinese people. Once I saw a Chinese woman distressed at the mention of it, on an internet video blog.
From her remarks it seems some European men are less than culturally sensitive when faced with a plate of chicken's feet, while the woman, for her part, was openly uncomfortable at the prospect of a partner consuming cheese, particularly those boasting richly pungent odors, like mature camembert.
Though a China "newbie" freshly off the plane in Beijing, I thought I had the necessary research before arriving. It involved in part watching hundreds of hours of video blogs by Chinese and expats in China and I believed I knew where things stood when it came to cheese.
But how wrong I was about the supply, at least in Beijing. A colleague took me to one market displaying a veritable cornucopia of cheesy comestibles. And then my local Ito Yokado store revealed a bountiful range. As my canny New Zealand pal told me, the number of expats would never support such stocks. The local Chinese were doing most of the buying.
The array is almost breathtaking, at least on a par with any well equipped supermarkets in the West. On one foray into Ito Yokado there was an entire section of butter with product names among them Westgold (New Zealand), Anchor (also Kiwi), Paysan Breton (French), President and Lurpak.
In the almost decadent milk section, there was Meadow Fresh (New Zealand), and Oldenburger UHT semi skinned (German) among dozens of brands.
Among the yoghurts there were such favorites as Yoplait, Perle de Lait, and Danone and many more.
From very near these dairy items, came the wafting, warm smells of fresh bread in all its forms from a shop called Paris Baguette. And, naturally, there were wonderful French cakes and other delights. A couple of bottles of white wine had been thoughtfully placed in a chilling display cabinet, next to the cheese.
In all, a completely Western shopping experience in a Japanese department store in a Chinese city.
And so it came to me: it's not just the high tech, upscale autos and luxury watches, where the consumption revolution is taking place in China, although they seem the most visible.
Cheese and the wider dairy products sector is a truly global business-and it's coming to China in a big way if New Zealand's Fonterra Co-operative Group has its way.
Indeed it's already here. But the wheel of brie and the number of milk cans and butter churns seem set to grow exponentially. The New Zealand dairy cooperative has just launched its new brand, Anchor Food Professionals, in Shanghai, in a move to take advantage of China's "fast-expanding" dairy market, estimated to have an annual compound growth rate of more than 20 percent.
Their move is shrewd. According to data compiled by Dianping Holdings Ltd, China's biggest online food services rating website, the food services market on the Chinese mainland that uses dairy goods expanded from 71.2 billion yuan ($10.9 billion) in 2012 to 187 billion in 2016 and will rocket to 550 billion yuan in 2020.
It also comes at a time when the outlook in Australia for its dairy industry is smelling a bit off, with a reported "price crisis" sparking calls for emergency government aid funding.
And the deepening Chinese lurch into dairy consumption, as with other sectors from electric cars to wind turbines, could have global ramifications ultimately for the international dairy industry as the tastebuds of a billion plus consumers turn more to milk, butter and cheese. Might it be time for canny investors to quietly accumulate on weakness some Australian dairy sector shares?