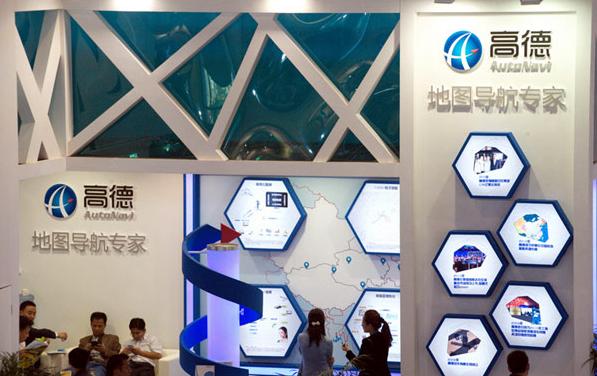 People visit the stand of AutoNavi, the Chinese map and data service provider, during the PT/EXPO COMM China 2013 in Beijing, September 25, 2013. [Photo/IC]
The digital mapping arm of e-commerce conglomerate Alibaba Group Holding Ltd officially unveiled its Internet-enabled navigation system for cars on Thursday.
AutoNavi Holdings Ltd, which was acquired by Alibaba in 2014, said the new system called Amap Auto can offer real-time traffic information and provide advice on best routes to avoid congestion.
Until recently, most drivers had to use a GPS system or download a map application on their mobile devices to navigate.
"The preinstalled GPS systems cannot offer real-time information and their data are not always up-to-date," said Wei Dong, president of the automobile business unit of AutoNavi.
"There are huge demands for online real-time navigation systems among drivers. With the launch of our new product, we hope that the navigation systems for drivers can go back to cars rather than being shouldered by smartphones," he added.
According to a recent survey by iResearch Consulting Group, about 42.4 percent of car owners choose their smartphones to navigate while driving and 30.6 percent use the preinstalled GPS systems in their cars.
Amap Auto will first be preinstalled in some of the new cars of AutoNavi's partners namely Changan Automobile Co Ltd and Zhejiang Geely Holding Group Co Ltd.
The company said it will also partner with car navigation system producers in China to allow more car owners to buy the product.
Liu Haihe, an Uber driver in Beijing who uses his smartphone to navigate when driving passengers around, said he is interested in the new system as it is important to know the real-time traffic information.
"The screen of the smartphone is small and it is not very safe to look at smartphones from time to time when driving the car," he said.
Analysts said the market potential of the sector is huge as the latest statistics showed China had about 279 million vehicles by the end of 2015.
But rather than simply providing navigation systems that can be connected to the Internet, Zhang Xu, an analyst with the Beijing-based Internet consultancy Analysys International, said the ultimate goal for AutoNavi is the so-called Internet-of-cars, a booming sector that attracted the attention from all of the three Internet giants in China.
"Cars will be like the next smartphones. When they connect to the Internet and connect with each other, a growing number of business opportunities will emerge as service providers and retailers can interact with customers more effectively," he said.
"People will no longer need to search for a new movie or a new restaurant online and take a taxi to go to the place. They may be able to watch a movie online inside the car while the car drives itself to their favorite restaurant," he said.