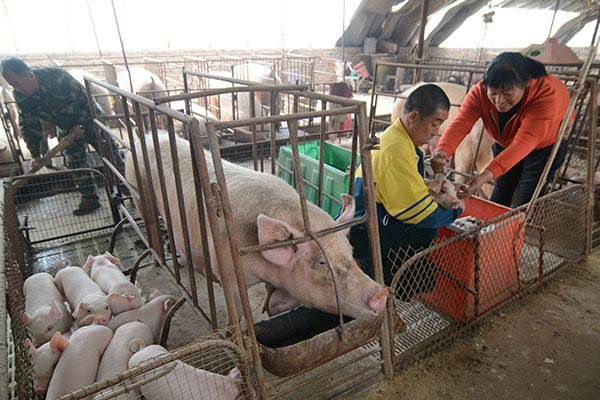 Liu Zhihua (center), a pig farmer from Jinzhou, Liaoning province, checks on a piglet at his farm on April 6, 2016. LI TIECHENG / FOR CHINA DAILY

High cost of nation's favorite meat has knock-on effect that is helping the economy
Economists applauded. Housewives frowned. Pork-the staple meat of most Chinese families-led the latest round of inflation in the country.
But, despite the fact that the price of pork in China is likely to stay high this year, a sharp price hike is unlikely, said Ma Youxiang, head of the department of livestock production at the Ministry of Agriculture, on Thursday.
At a time when many industrial producers are suffering from low demand and stagnant prices, pork prices rose by as much as 35.2 percent year-on-year in March, leading to inflated prices for a range of other food items.
The average price of wholesale pork was 25.34 yuan ($3.90) per kilogram across 36 large cities during the first week of April, the highest it had been since October 2011, according to the Ministry of Commerce.
And the cost of pork weighs heavy in China's inflation calculations.
Ren Zeping, chief macroeconomic strategist with the Chinese brokerage firm Guotai Junan Securities, said the financial industry is expecting a small recovery this year featuring an annualized inflation rate of between 2.5 and 3 percent. Xu Biao, chief strategist at Essence Securities, said moderate inflation will help companies earn more profit and help China's stock market.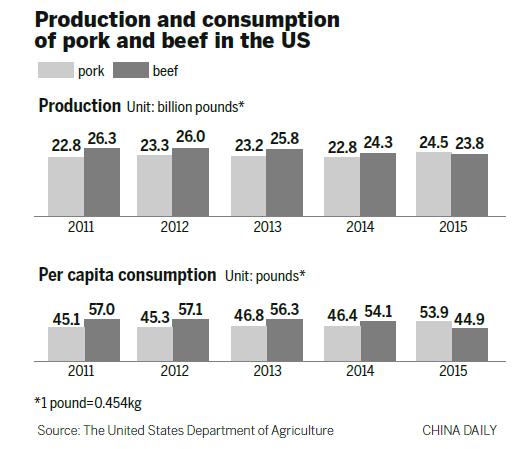 The pork price rise is due to a shortage in the supply of domestically produced pork caused, in part, by water pollution control initiatives in 10 provinces. The initiatives that started in November 2015 resulted in the closure of pig farms and the loss of capacity to raise 20 million hogs, said officials with the Ministry of Agriculture.
Pork is the most widely consumed meat in China and contributes more than 60 percent of its meat consumption.
China's total pork production was close to 55 million metric tons in 2015, which was almost half of global production, according to the Ministry of Agriculture.
Shen Danyang, a spokesman for the Ministry of Commerce, said the country's pork price, while high, has not reached its historic high, which happened in 2011 when wholesale pork sold for 35 yuan per kilo. The government is expecting the price to slowly stabilize in the coming weeks.
Ma said there is no need for China to drastically change the amount of pork it imports.
Ma added: "China has nearly 40 million pig farmers and a very long, related, value chain. The nation's pig production capacity is large enough."