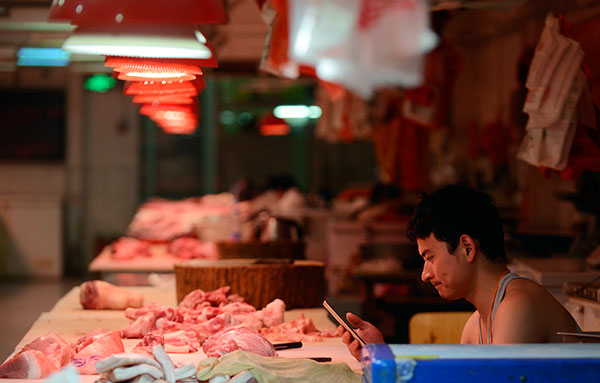 Owner of a pork booth in a food market plays his phone in Chaoyang district, Beijing, July 9, 2015. [Wei Xiaochen / China Daily]
But business managers in nonfood sectors continue to fret over deflationary pressures
Housewives compare prices every day, including Zhang Ming, a 60-year-old retired woman who frequents a supermarket in Beijing's Fengtai district.
On Sunday morning, she spent 45 yuan ($7.30) on 1 kg of pork fillet. "It's amazing considering that it wouldn't have cost 35 yuan just a couple of months ago," she said.
The National Bureau of Statistics said that last month the average price for pork in China shot up by 16.7 percent year-on-year, along with a price increase of 10.5 percent for all vegetables.
Pork and vegetables are the two major factors that have taken the nation's consumer inflation to a nine-month high, the bureau said.
Driven by food items, China's consumer price index, its general gauge of inflation, saw a year-on-year rise of 1.6 percent last month, compared with an increase of 1.4 percent in June, and with a very low level of 1.3 percent reported in the first half of the year.
Meanwhile, business managers, apart from those in the food industry, continue to agonize about the deflationary pressure they are facing.
Industries' factory-gate prices, as measured by the producer price index, have recorded their lowest reading since October 2009-the 40th straight month of declines.
More alarmingly, the trend has worsened. The index was down by 5.4 percent from a year earlier last month, after falling by 4.8 percent in June and by 4.6 percent in May.
Deflation in nonfood sectors, caused by subdued commodity prices, industrial overcapacity and weak demand, may signal continuing difficulty in the nation's economic growth in the second half of the year, economists said.
Some of them predict that deflation may cause GDP growth to fall below the government's 2015 target of 7 percent year-on-year.