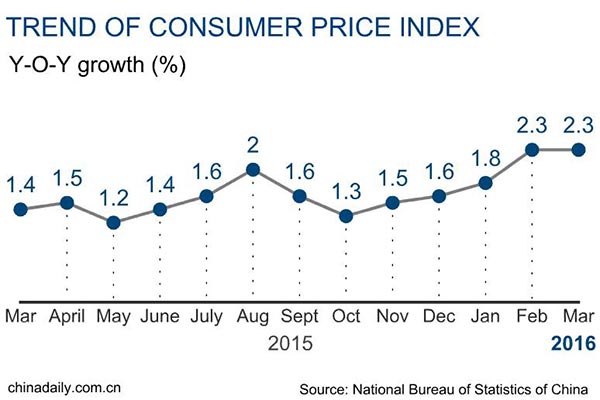 BEIJING - China's consumer prices grew 2.3 percent in March from one year earlier, the same as in February, official data showed Monday.
The consumer price index (CPI), a main gauge of inflation, shrank 0.4 percent in March from February, the National Bureau of Statistics said in a statement.
NBS statistician Yu Qiumei attributed the inflation growth mostly to high vegetable and pork prices.
Pork prices jumped sharply by 28.4 percent year on year, contributing 0.64 percentage points of CPI growth, while vegetable prices skyrocketed by 35.8 percent, accounting for 0.92 percentage points of CPI growth.
Food prices soared 7.6 percent year on year while non-food inflation edged up 1 percent in March.
Since January, CPI data have been calculated using a new comparison base that takes into account new products and services, reflecting a change in consumption patterns. The adjustment slightly reduced the weight of food, which previously accounted for nearly one-third of the CPI calculation.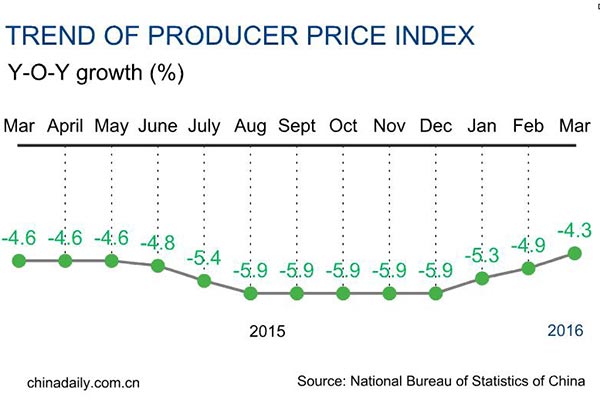 The producer price index (PPI), a measure of costs for goods at the factory gate, dropped 4.3 percent year on year in March, narrowing from a 4.9-percent drop in February and 5.3-percent decline in January, according to the National Bureau of Statistics (NBS).
The reading marked the 49th straight month of decline as China's economic slowdown and industrial overcapacity weighed on prices.
Output price drops in oil, natural gas and coal, oil refining, ferrous metal smelting, chemical raw materials and chemical products contributed around 65 percent of the general producer price decline, said NBS statistician Yu Qiumei.
On a month-on-month basis, March's PPI inflation edged up 0.5 percent, the first such gain since 2014.
Yu attributed the improving producer prices mainly to the extended gains for some commodity prices and smaller drops in the price of oil refining.
The easing PPI contraction in March was mainly due to stabilizing commodity prices and the recovery in construction during the period, according to HSBC chief China economist Qu Hongbin.
Taken together with positive readings from the March PMIs, the upside surprise in factory gate prices is another indication that China's economy is on slightly firmer ground heading into the spring, said Tom Orlik, chief Asia economist at Bloomberg.
If the improvement is sustained, higher profits will be supported and China's corporate debt problem will appear slightly less formidable, said Orlik.
The data came along with the release of the consumer price inflation index (CPI), which rose 2.3 percent in March, the same as that in February.
Related story: Pork prices bring squeals, grunts by Xu Wei from China Daily
Economists applauded. Housewives frowned. Pork-the staple meat of most Chinese families-led the latest round of inflation in the country.
But, despite the fact that the price of pork in China is likely to stay high this year, a sharp price hike is unlikely, said Ma Youxiang, head of the department of livestock production at the Ministry of Agriculture, on Thursday.
At a time when many industrial producers are suffering from low demand and stagnant prices, pork prices rose by as much as 35.2 percent year-on-year in March, leading to inflated prices for a range of other food items.
The average price of wholesale pork was 25.34 yuan ($3.90) per kilogram across 36 large cities during the first week of April, the highest it had been since October 2011, according to the Ministry of Commerce.
And the cost of pork weighs heavy in China's inflation calculations.
Ren Zeping, chief macroeconomic strategist with the Chinese brokerage firm Guotai Junan Securities, said the financial industry is expecting a small recovery this year featuring an annualized inflation rate of between 2.5 and 3 percent. Xu Biao, chief strategist at Essence Securities, said moderate inflation will help companies earn more profit and help China's stock market.
The pork price rise is due to a shortage in the supply of domestically produced pork caused, in part, by water pollution control initiatives in 10 provinces. The initiatives that started in November 2015 resulted in the closure of pig farms and the loss of capacity to raise 20 million hogs, said officials with the Ministry of Agriculture.
Pork is the most widely consumed meat in China and contributes more than 60 percent of its meat consumption.
China's total pork production was close to 55 million metric tons in 2015, which was almost half of global production, according to the Ministry of Agriculture.
Shen Danyang, a spokesman for the Ministry of Commerce, said the country's pork price, while high, has not reached its historic high, which happened in 2011 when wholesale pork sold for 35 yuan per kilo. The government is expecting the price to slowly stabilize in the coming weeks.
Ma said there is no need for China to drastically change the amount of pork it imports.
Ma added: "China has nearly 40 million pig farmers and a very long, related, value chain. The nation's pig production capacity is large enough."