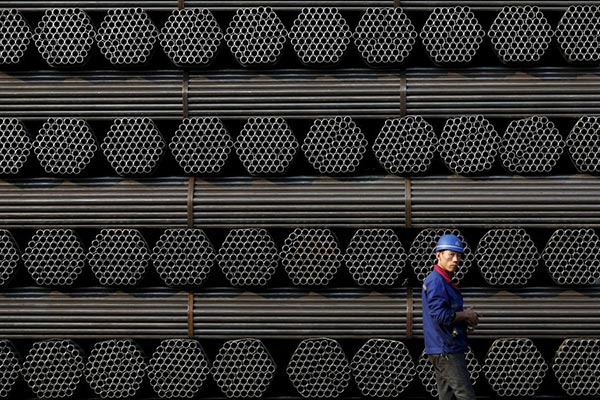 A worker walks past a pile of steel pipe products at the yard of Youfa steel pipe plant in Tangshan in China's Hebei Province, November 3, 2015.[Photo/Agencies]
BEIJING - Chinese steel producers experienced their worst year in 2015, with combined losses in primary business soaring 24-fold from 2014 to over 100 billion yuan (15.5 billion), an industry association said on Thursday.
The sector was "in severe winter" last year as overcapacity and tumbling steel prices squeezed profit margins, said Liu Zhenjiang, Party chief and secretary general of the China Iron and Steel Association (CISA), at an industry meeting.
Taking investment returns into account, the country's steel mills recorded a total loss of 64.5 billion yuan in 2015, after a combined profit of 22.6 billion yuan in 2014.
"The sharp downturn sent life-or-death signals to some companies and posed grim challenges for our business in 2016," Liu told the meeting.
Steelmakers have been in deep water in the past few years as a result of shrinking demand and huge excessive capacity built up in decades of rapid expansion.
CISA members saw their combined return on sales drop into negative territory last year from an average of 0.44 percent in the 2012-2014 period and 2-3 percent between 2008 and 2011, according to Liu.
The steel price index also plunged, down 55.6 percent from October 2011 to mid-December 2015.
Although signs of improvement have been seen this year, the oversupply situation remains unchanged and there is a significant chance that steel exports will decrease this year, Liu said.
The steel price index rose for three months in a row from January to March, but producers still posted 11.4 billion yuan of losses in January and February combined.
Liu urged steel firms to stay calm about the price upturn and step up their efforts to cut capacity, curb output and improve efficiency.
China's steel industry, the world's largest, is a major target of nationwide campaigns to reduce overcapacity and upgrade production as part of the country's efforts to battle economic headwinds.
China's economy grew by 6.9 percent, the slowest pace in 25 years, in 2015, due to an industrial glut, cooling property investment and sagging foreign trade.