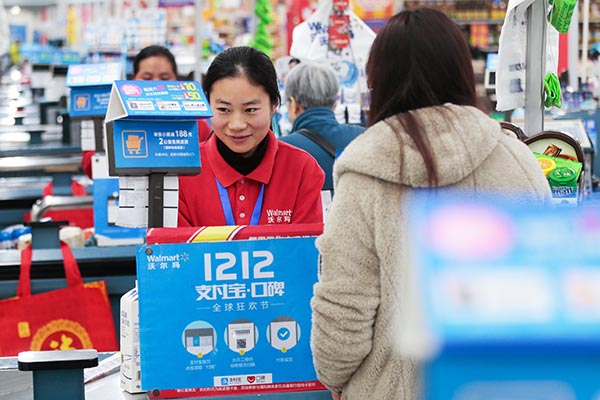 A cashier at a Wal-Mart outlet in Shanghai.[Provided to China Daily]

Part of retailer's effort to integrate businesses in a tough market
Wal-Mart China is opening 60 new stores in the country by 2017 as part of its efforts to integrate its hypermarkets, membership stores and online platform to offer customers more convenience and quality products in a highly-competitive retail market, the company's top executive said.
Greg Penner, chairman of the Wal-Mart board of directors, said in an exclusive interview with China Daily in Shanghai on Wednesday that the company has already opened more than 50 new stores since a plan to add 115 stores in three years was announced in 2015.
"China has amazing growth opportunities which in the next five years will surpass the US market in retail potential," said Penner, who visited two Wal-Mart stores in Shanghai on Tuesday.
In addition to growing its physical presence, Wal-Mart is also focusing on enhancing its online stores and building stronger digital relations with Chinese customers, he said.
Penner was elected to lead the board in 2015.
"Customers want their products from stores and also from online platforms and now have a choice of getting them delivered to their homes or picking up in the stores," Penner said, referring to the increasing importance of online shopping convenience to customers.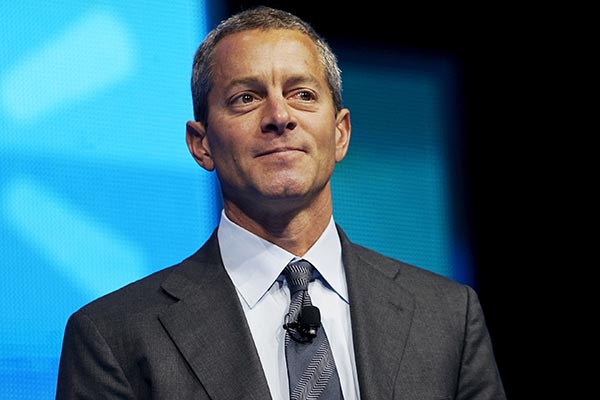 Greg Penner, chairman of Wal-Mart board of directors.
He added: "The food safety is critical in China and is a big part of our focus here."
Penner said, in 20 years in China, Wal-Mart has built three brands-Wal-Mart hypermarket, the Sam's Club membership store and Yihaodian, the retailer's Chinese online offering-all playing important roles in the company's growing business.
Wal-Mart China operates 432 stores including 12 Sam's Clubs in 174 cities and municipalities. And registered users of Yihaodian have reached 130 million.
Wal-Mart is the second-largest retail banner just behind RT-mart in modern trade (including hypermarkets, supermarkets and convenience stores), according to Jason Yu, general manager of Kantar Worldpanel China. This sector of retail business has continued to experience sluggish growth in 2015, only growing by 3.3 percent from 2014.
Hypermarkets declined in key cities and provincial capitals by 1.5 percent, but it managed to grow at 4.1 percent at national level as a result of more store openings in the lower-tier cities. Kantar Worldpanel expects to see continued development in the hypermarket format in lower-tier cities in the coming years.
"The group presented clear strength in terms of hypermarket geographic coverage (more cities than anyone else) but also established its leadership in membership club format and e-commerce through acquisition of Yihaodian," said Yu.
According to Kantar, Wal-Mart leads the modern trade sector in southern and western China. It started to embrace more O2O opportunities by launching a mobile shopping app and introducing Alipay to drive efficiency and customer experience, said Yu.
Wal-Mart has recently launched its Global Shop, a cross border e-commerce platform, offering more than 200 imported items on Wal-Mart App.