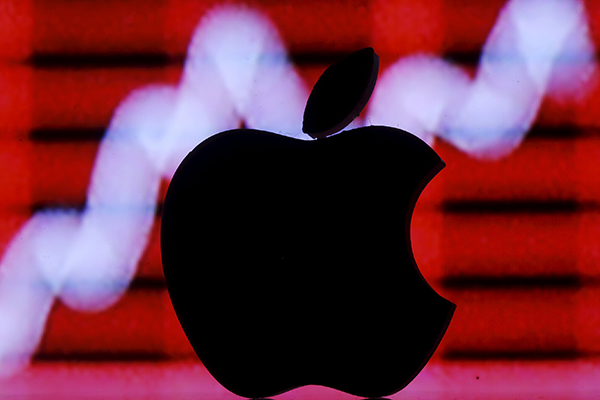 A 3D printed Apple logo is seen in front of a displayed stock graph in this illustration taken February 26, 2016. [Photo/Agencies]
After months of declines in Apple's stock, sentiment appears to be mending as investors focus on steady earnings expectations and bet that the expected launch of a new iPhone will add badly-needed fuel to sputtering sales.
Battered by nearly a year of off-and-on declines from record highs because of fears of a slowdown in iPhone sales, Apple's stock now is valued closer to IBM, which has disappointed Wall Street for the past four years with declining revenue, than to Silicon Valley technology pioneers Alphabet and Tesla Motors.
Apple shares have increased 5 percent in the past two weeks as Wall Street bets the company this month will launch a less expensive iPhone to boost sales in developing countries like China. With US consumers upgrading their smartphones less often, manufacturers have been relying on China for growth.
Shareholders this week pointed to Apple's reliable cash generation, beaten down valuation and its wild card potential for future game-changing products as key reasons for owning it.
"This company has a history of doing better than expectations and surprising people," said Daniel Morgan, Senior Portfolio Manager at Synovus Trust Company, which holds over 1 million shares of Apple. "Where else can I go and find a company trading at 10 or 11 times earnings that has had such a great history?"
At $100.97 a share on Wednesday, Apple is selling at 10.7 times its expected earnings per share over the next 12 months. Its average forward price-earnings-ratio has been 13 over the past two years.
By comparison, Internet behemoth Alphabet, whose Android mobile platform competes against Apple's iOS, trades at 20 times expected earnings and 13-year old Tesla Motors trades at 132 times earnings. International Business Machines, which is struggling to expand into a high-growth business like cloud computing, has a P/E of 10.2, according to Thomson Reuters data.
"Unless something big happens, (Apple) doesn't deserve to trade at 20 to 25 times earnings anymore. It's just too big," said David Meier, a portfolio manager at Motley Fool Funds. "But as a high-quality company, could it trade at 15 times earnings? Certainly."
A target of 15 times its next 12 months' expected earnings would put Apple at around $138.
In another hint of improving sentiment, Apple's stock has recently moved above its 50-day moving average for the first time since December.