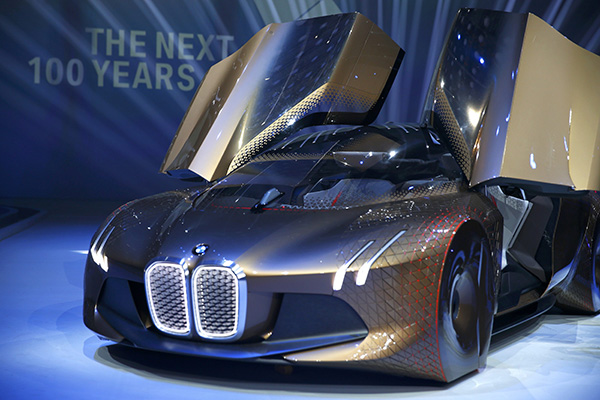 BMW presents the 'Vision Next 100' concept car during centenary celebrations at the Olympic Hall in Munich, southern Germany March 7, 2016. [Photo/Agencies]
MUNICH - German car producer BMW Group announced on Wednesday that its group revenues last year hit a new record for the six consecutive year.
With additional tailwind from favourable currency factors, group revenues grew by 14.6 percent in 2015 to 92.18 billion euros ($101.40 billion), according to a statement on BMW's official website.
Group profit before tax (EBT) increased by 5.9 percent to a new high level of 9.22 billion euros, while group net profit rose by 10.0 percent to a new record level of 6.40 billion euros, the Bavarian company said.
"We have met all of our ambitious targets for the financial year," said Harald Krueger, chairman of the board of management.
Meanwhile, automobile sales volume climbed by 6.1 percent to a new record level of 2,247,485 units, with sales volume growth in all major sales regions.
The four largest sales markets for the BMW Group over the past year were China, the US, Germany and the Great Britain, according to BMW.
In Asia, the BMW Group sold 685,792 units, 4.2 percent more than the previous year. The sales on Chinese mainland grew by 1.6 percent to 464,086 units.