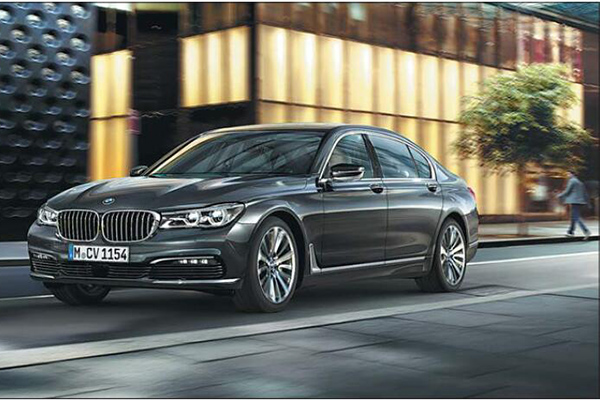 BMW launches its 730Li limousine in China last week at a retail price of 898,000 yuan to 1,028,000 yuan. [Photo provided to China Daily]
German premium carmaker BMW Group is speeding up its localization plans to further boost sales in China, its biggest single market in the world.
BMW China President and CEO Olaf Kastner said the localization plans will center on two major areas-production and talent.
"BMW remains fully committed to China, the most important marketplace, in our opinion. We will enhance our localization strategy, from fostering local talent to local production, all centered on the approach of 'In China, by Chinese and for China'," Kastner said last week at the launch of the new BMW 730Li limousines in the tropical city of Sanya.
He said the company will bring two new models into production in China in the first half of this year.
The two locally made models-the 2 Series Active Tourer and the all-new X1 SUV-are among more than 10 new products that BMW has planned for the Chinese market this year.
"This will enhance the diversity of our product matrix and showcase the versatility of our brand, which blends outstanding driving pleasure with the joy of being sustainable and responsible for future generations," Kastner said.
BMW runs a joint venture with Brilliance China in the northeastern city of Shenyang, Liaoning province. The venture, BMW Brilliance, has two plants producing 5 Series and 3 Series sedans as well as the current-generation X1. In January, the venture opened a plant to manufacture engines, BMW's sole engine factory outside Europe.
Bold appointments
BMW China recently announced that Michael Liu, vice-president of the joint venture, will be promoted to president of BMW China Automotive Trading Ltd on April 1, which is seen as the boldest move by a global carmaker in China because Liu is a 39-year-old Chinese citizen.
Last week, BMW China and BMW Brilliance also revealed a series of internal personnel rotations, effective Apr 1, to install three young Chinese executives and a foreigner.
"We will further align our strategy to the new market conditions and changing customer behaviors, optimize business models … and confidently explore new ways to reach and serve the new generation of customers who are born digital," Kastner said.
"In this context, we will continue our talent localization strategy, expand their experiences and put more local talent in important positions to drive our business forward."