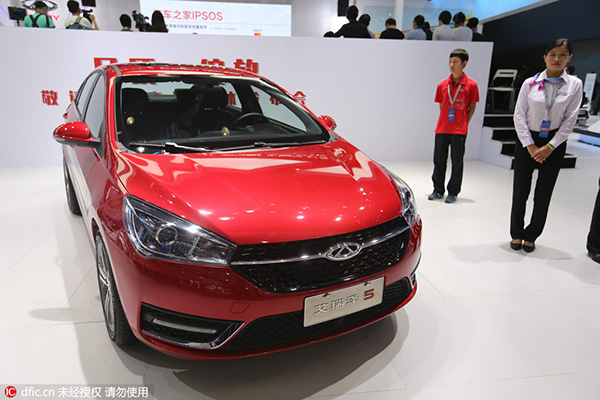 A Chery Arrizo 5 is on display during the 13th China (Guangzhou) International Automobile Exhibition, also known as Auto Guangzhou 2015, in Guangzhou city, South China's Guangdong province, Nov 21, 2015. [Photo/IC]
HEFEI - Chinese auto maker Chery Automobile Co announced on Wednesday that it will launch its latest model, the Arrizo 5, in Santiago, Chile, on Thursday.
Chery is the first Chinese automaker to launch a new model overseas ahead of the domestic market.
Jin Yibo, Chery's assistant general manager, said Chile is one of the biggest markets for China's cars in Latin America.
"Chery has bigger share of Chile's passenger car market than other Chinese brands," said Jin. "We value the Chilean and Latin American market, so chose to launch the new car there," he said.
Chery has been China's biggest car exporter for 13 consecutive years, with a total sales of over 1.2 million vehicles.
The model will be launched simultaneously later this month in several countries including China and Iran.