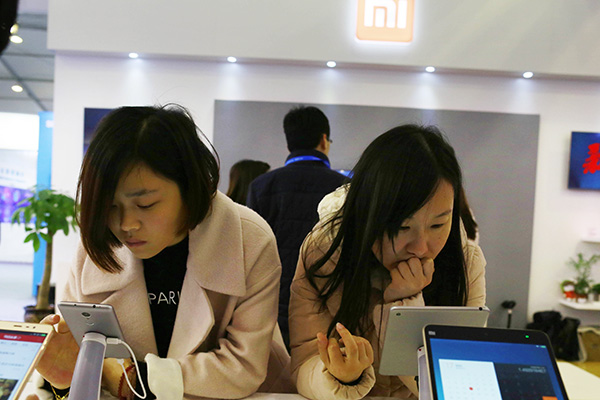 Visitors try the latest smartphones of Xiaomi Corp at an industry expo in Wuzhen, Zhejiang province. [Photo/China Daily]
Global vendors shipped 427.6 million smartphones to the Chinese mainland in 2015, representing a disappointing 2 percent year-on-year growth, which was the slowest on record, an industry report said on Monday.
Controlling more than a 15 percent market share last year, Beijing-based handset maker Xiaomi Corp edged out rival Huawei Technologies Co Ltd to claim the top spot, said the report, released by industry consultancy Canalys.
Shenzhen-based Huawei recorded a 14.7 percent market share while Apple Inc, the No 3, had 12.5 percent.
As local vendors consolidated their dominance of the market, Apple and South Korean giant Samsung Electronics Co Ltd were the only surviving overseas majors.
The fourth quarter was one of the best-performing periods for handset vendors due to the release of new products and the approaching holiday season boosting sales. A total of 113.6 million devices were shipped between October and December, a lukewarm 5 percent jump compared to a year earlier.
Nicole Peng, research director of Canalys China, estimated that shipment growth in 2016 is likely to stand at 5 to 7 percent year-on-year, thanks to the telecom carriers' attempts to introduce new technologies and customers' growing appetite for quality devices.
"I think a 5 percent growth rate will be a good result, although the carriers are more positive," Peng said. "We will see China Mobile Ltd pushing devices compatible with Voiceover LTE technology."
The VoLTE technology allows traditional voice services to be transmitted along with other Internet data. Once the carriers adopt this technology, smartphone users will no longer need to pay for voice calls by duration, but by how much online traffic the call consumed.
"Second, we expect consumers will continue to upgrade their existing smartphones to better-quality devices. This trend will also push the average sales prices up in China," Peng said.
The top-tier brands, including Huawei and Xiaomi, have announced plans to introduce next-generation devices with new features, better quality and potentially, a higher price.
Li Wanqiang, co-founder of Xiaomi, said last week the Mi 5, the company's 2016 flagship to be released this month, will "crash" competitors in terms of design, performance and quality.
He said Xiaomi has kicked off mass production of the device.
Richard Yu, head of Huawei's handset unit, also showed off the stability of last year's flagship Mate 8, saying in a Weibo post that the device endured the frigid weather in North China while iPhones stopped working due to the extreme temperatures.
Huawei shipped more than 100 million handsets globally last year, and more than 70 percent were sold in China. The company is also eyeing Apple and Samsung's share in the premium-end market, where the retail price for a device is well above $600.
"Huawei will need to fight with Xiaomi in China and expand in overseas markets to reach its shipment target this year," Peng said.