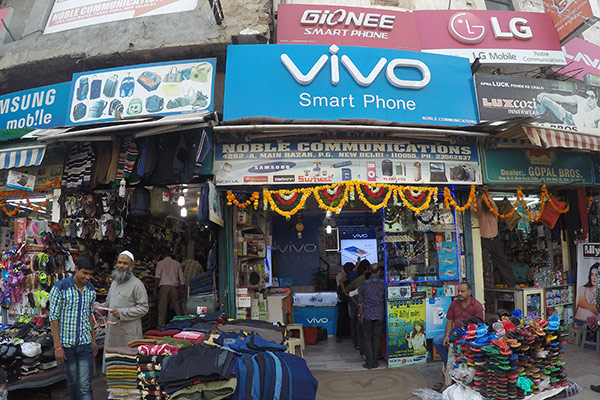 Chinese smartphone logo of vivo and Gionee on advertising billboards above an electronics store in New Delhi, India.[Provided to China Daily]
Diwali spells fortune for brisk sales of smartphones and memory cards made by China-based firms
Doves in Delhi had an awful week during Diwali, India's biggest festival that lasted five days in mid-November.
The nerve-cracking sounds of firecrackers, sometimes as loud as hand grenades, sent them seeking cover all night long in the city's mingled narrow alleys that date back to the pre-colonial age.
But for Sadiq Kumar, who runs a 10-square-meter electronics store in a 300-year-old bazaar in the densely popularized Paharganj area of New Delhi, selling smartphones, power banks and memory cards from China, the "festival of brightness" spelled fortune.
"The business has been very good these days," said Kumar, standing behind a glass counter full of mobile phones made in China. His booth is sandwiched in a store selling knock-off Adidas bags and a shop vending 50-rupee ($0.75) slippers.
Inside the booth, where nothing was screening the noise on the street and intermittent smell of firecrackers, Kumar, in his 40s, reached out to a glass display cabinet behind him and put a white smartphone case on the counter.
"This is our star product and it is as good as the iPhone 6," he said, pointing at a sliver vivo logo on the case.
The device Kumar was referring to was a vivo Y27L, a 4.7-inch (119 millimeters) screen Android phone made by Guangdong-based vivo Communication Technology Co Ltd.
The handset, selling at 13,980 rupees at Kumar's store, is compatible with the fourth-generation communications network, which remains a new and expensive service for many people in India.
Kumar introduces vivo smartphones every time to buyers who are looking for a 4G device. But if the buyers think twice about taking the iPhone-quality device, the store also offers made-in-China smartphones as low as 4,000 rupees.
Chinese smartphone vendors, including vivo, Lenovo Group Ltd, Xiaomi Corp, Meizu and many others, are aggressively expanding in India this year as growth in their home market slows.