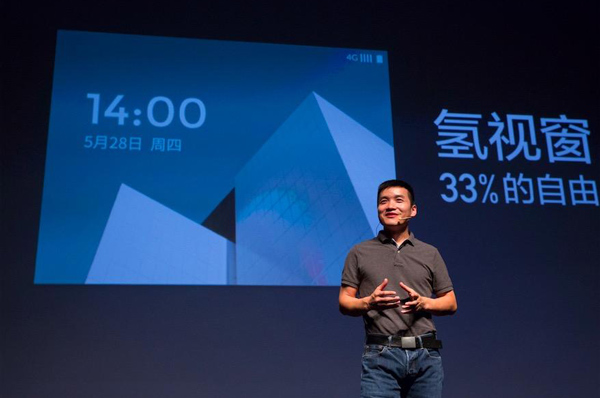 Pete Lau, founder and CEO of OnePlus, delivers a keynote speech on May 28 at the launch event of the company's "Hydrogen OS" custom ROM in Beijing. [Provided to chinadaily.com.cn]
Chinese phone maker OnePlus said it had entered into an agreement with Foxconn Technology to manufacture phones in India, making the mobile phone company the latest to join a spate of rivals who have announced similar plans.
"All our handsets are made in China and then shipped to India. So, making them locally will help reaching our Indian customers faster," Chief Executive Pete Lau told reporters in a conference on Monday.
India, under Prime Minister Narendra Modi, has sought to reboot manufacturing, but the country is yet to rival China, particularly in technology where most factories will likely be assembly units to begin with.
Foxconn, the world's biggest contract manufacturer for electronic parts, has said it is aiming to develop 10-12 facilities in India, including factories and data centers by 2020.
"India being one of our biggest markets worldwide, we are committed to a long term sustainable growth path. This move will strengthen our presence and help us step up momentum in India," Lau said.
A growing middle class and an expected surge in the use of mobile data in the coming months have turned India into a lucrative market for Chinese players.
India is the fastest growing smartphone market in the world, but most Indians are first time user, preferring cheaper alternatives to iPhones or higher end Samsung devices.
Local production of OnePlus' upcoming devices will start before end of this year, the company said, with a peak capacity of producing up to 500,000 units per month.
Rivals such as Oppo and Xiaomi have already announced plans to manufacture in the country.
India has the second-highest number of mobile phone accounts behind China. According to networking solutions company Cisco Systems, there will be 650 million smartphones in the country by 2019.