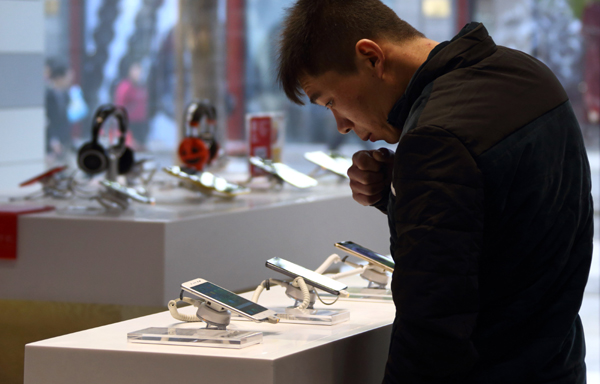 A customer looks at Lenovo Group Ltd smartphones at the company's flagship store in Beijing. Lenovo shipped only 8.2 million handsets in the first quarter of the year, compared with more than 10 million a year ago. [Photo/Agencies]
Statistics from technology research firm IDC have revealed that Chinese tech giant Lenovo has surpassed Xiaomi and Huawei to become the top Chinese brand in India's smartphone market, according to the South China Morning Post.
"Lenovo was the lone Chinese brand among India's top-five suppliers in the quarter ended June 30," said the report.
According to IDC, Lenovo's entry-level 4G models, the A6000 and A7000, saw strong demand after only initially being available online.
Kiranjeet Kaur, research manager at IDC's Asia-Pacific mobile phone team, said Lenovo, Xiaomi, Huawei and Gionee accounted for 12 per cent of smartphones shipped in the last quarter.
"As China started to slow down, most vendors from that country targeted India as the next big growth market for smartphones," Kaur said.
India's smartphone shipments increased 44 percent in the second quarter to 26.5 million units, up from 18.4 million in the same period last year.