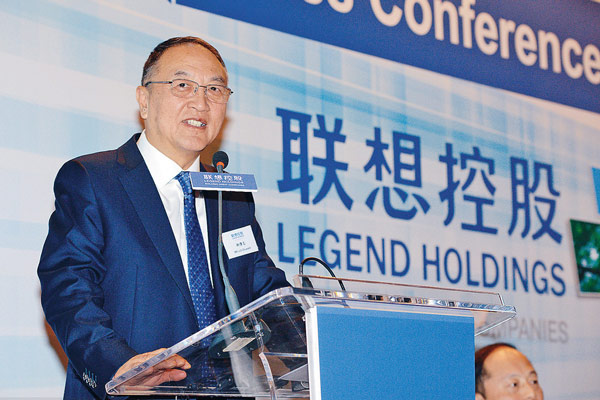 Liu Chuanzhi, chairman of Legend Holdings Corp, speaks at a news conference on the company's IPO in Hong Kong on June 15,2015. [Photo/IC] 
Legend Holdings Ltd, the largest shareholder of Chinese tech giant Lenovo Group Ltd, starts trading on the Hong Kong stock exchange on Monday.
Pricing its initial public offering at HK$42.98 per H share, the company will generate about $2 billion from the sale of 352.944 million shares.
In a regulatory filing on Friday, after deducting underwriting commissions, incentive fees and other expenses, the net proceeds from the IPO was estimated to reach HK$14.627 billion.
The local market offering of 26,470,800 H shares, which was about 45.17 times oversubscribed, represents 7.5 per cent of the total stock up for sale.
According to previous report by Xinhua News Agencies, the group announced on June 15 the details of its global offering and its proposed listing on the main board of the Stock Exchange of Hong Kong Limited.
Legend posted $680 million net profit in 2014, down 14 percent year-on-year because of an increase in administrative expenses and finance costs, said China Daily, citing a preliminary prospectus.
Legend was founded in 1984 by Liu Chuanzhi and 10 other researchers with funding of $30,000 from the Chinese Academy of Sciences.
Apart from Lenovo, Legend has interests in real estate across China and controls Hony Capital, a Chinese private equity firm.
In the filing to the Hong Kong stock exchange, the company said proceeds from the proposed IPO would be used to make "strategic investments" in "consumer and service-related businesses". The proceeds would also be used for the "partial repayment of corporate bonds".