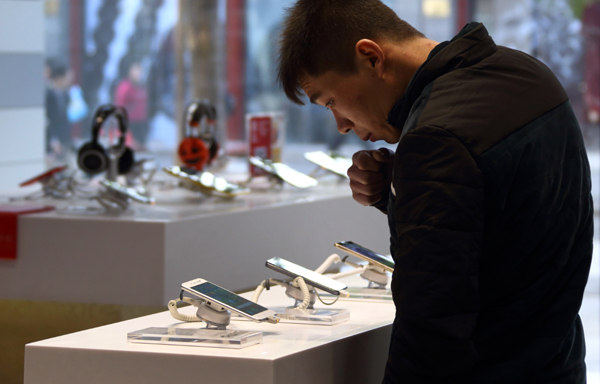 A customer looks at Lenovo Group Ltd smartphones at the company's flagship store in Beijing. Lenovo shipped only 8.2 million handsets in the first quarter of the year, compared with more than 10 million a year ago. [Photo/Ahencies]
Company says change of management will not affect sales, profit goals for troubled unit
The head of Lenovo Group Ltd's mobile business has stepped down amid the personal computer giant's continued struggles to stay ahead of rivals like Xiaomi Corp and Huawei Technologies Co Ltd.
Liu Jun, head of Lenovo's mobile business group and chairman of the newly acquired subsidiary Motorola Mobility, will serve as a special consultant to Chief Executive Yang Yuanqing on mobile strategy "for a certain period of time" before leaving the company, Lenovo said Tuesday in a statement.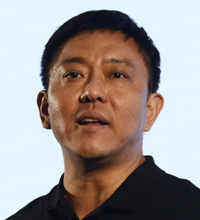 Liu Jun, former president of the mobile business group of Lenovo Group Ltd. [Photo/China Daily]
Liu was a key figure in the $2.9 billion acquisition of Motorola from Google Inc last year. Lenovo is relying on the Chicago-based subsidiary to enter developed markets.
Chen Xudong, a 47-year-old Lenovo veteran who had managed the company's most profitable Chinese PC market for five years, will now spearhead the mobile business, said the statement.
The management change came in an abrupt fashion. Only last week, Liu was seen aggressively defending his 120-million-unit annual smartphone and tablet sales target at an analysts' meeting.
Lenovo did not explain the reason for Liu's departure, but the company's poor performance on the Chinese mainland certainly played a part.
The Beijing-based company saw an embarrassing 22 percent year-on-year shipment slump in the first quarter, according to research firm International Data Corp. Lenovo only shipped 8.2 million handsets between January and March, while the amount exceeded 10 million a year ago.
Failed attempts to attract young buyers from local rivals also saw Lenovo slump to the fifth position, lagging behind Apple Inc, Xiaomi, Huawei and Samsung Electronics Co. While the top three are enjoying high double-digit shipment growth, the gap is expected to widen in the coming quarters.
Share prices of Lenovo, listed in Hong Kong, closed at HK$12.16 ($1.57) on Tuesday, a drop of 1.3 percent.
Nicole Peng, research director at Shanghai-based Canalys China, said the sudden management change is set to affect the smartphone unit, but Lenovo is not likely to change its strategy for now.
Lenovo said it plans to sell more than 100 million smartphones in the fiscal year that started in April. The Chinese mainland is responsible for shipments of at least 40 million units.