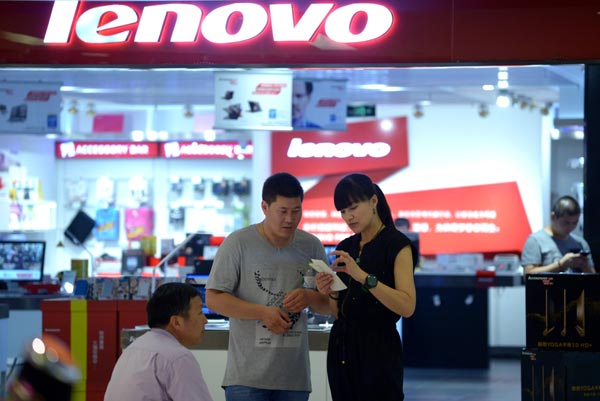 A Lenovo Group Ltd store in Beijing. Legend Holdings Ltd, which has a controlling stake in Lenovo, is planning an IPO in Hong Kong to help fund acquisitions. [Photo/China Daily]
Legend Holdings Ltd, the largest shareholder of personal computers maker Lenovo Group Ltd, hopes to raise up to $3 billion on the Hong Kong stock exchange.
The Beijing-based company has filed for an initial public offering in the second part of the year to help fund acquisitions in the consumer and services sectors.
Legend posted $680 million net profit in 2014, down 14 percent from a year earlier because of an increase in administrative expenses and finance costs, according to a preliminary prospectus.
Apart from Lenovo, Legend has interests in real estate across China and controls Hony Capital, a Chinese private equity firm.
Legend was founded in 1984 by Liu Chuanzhi and 10 other researchers with funding of $30,000 from the Chinese Academy of Sciences.
In the filing to the Hong Kong stock exchange, the company said proceeds from the proposed IPO would be used to make "strategic investments" in "consumer and service-related businesses". The proceeds would also be used for the "partial repayment of corporate bonds".
When it goes through, the Legend IPO will be one of the largest recent listings in the Asia-Pacific region. Analysts in Hong Kong said that strong sentiment would help lift the valuation of Legend's shares in a market that has been known for undervaluing IPOs of mainland companies in the past.
They expect that the price of the IPO will be set at a price-to-earnings multiple of between 15 to 20 times. As yet, it is not known how many shares Legend is going to issue.
"I feel that the market sentiment is providing a favorable time window for Legend to initiate its IPO," a local investment banker, who is not involved in the program, said. "It is likely that Legend is going to enjoy a relatively high valuation by potential investors."
Through its Lenovo operation, the group has a strong appeal to institutional investors, owing to its strengthening position in the global marketplace for mobile telecommunication products.
"Lakala Payment Co, the mobile payment business, is the most valuable part within Legend," said Ray Zhao, an analyst with Guotai Junan Securities Co Ltd.