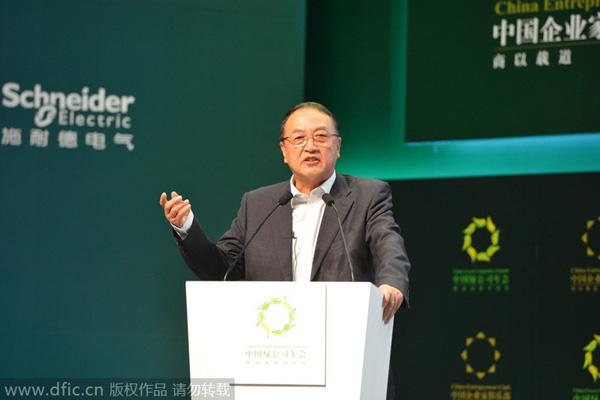 Liu Chuanzhi, Chairman of Legend Holdings Ltd, speaks at an event of the 2014 Annual Summit of China Green Companies in Nanning city, south Chinas Guangxi Zhuang Autonomous Region, April 20, 2014. [Photo/IC]
Legend Holdings raised investments totaling tens of millions of yuan with two partners in Chinese Internet finance company Beijing Oriental Wealth Information Co Ltd, the two parties jointly announced on Tuesday.
This is the Series A financing of Beijing Oriental Wealth Information Co Ltd, with Legend Holdings accounting for 10 million yuan ($1.6 million).
The funds will be used to recruit talent and perfect risk control and brand management, Wang Pengcheng, CEO of Beijing Oriental Wealth Information Co Ltd, told China Daily.
Beijing Oriental Wealth Information Co Ltd mainly operates Yindou.com, a person-to-company lending platform. It went online in January this year, and trading volume reached more than 200 million yuan by August 22. The number of registered users has been about 30,000.
Wang Mingyao, executive director of Legend Star, a member company of Legend Holdings, said that Yindou.com is different from peer-to-peer lending companies because all the debt products are in line with guarantee companies and the borrowers are companies rather than individuals.
By the end of July, there were 1,283 Internet lending companies and the trading volume would total 250 billion yuan in the full year of 2014, according to data from wangdaizhijia.com.